Home
»
Articles
»
2 of the top international Rock festivals in Europe that you should attend at least once in your life time.
Rock concerts these days have become more widely accepted to include more musical genres, apart from just mainstream rock. In fact, the words 'let's rock' are a clue into just how mainstream the word rock has become.  It is not strange at all these days to find rock festivals including EDM music, rap, pop, world music and even folk music.
The inception of rock festivals in their present format began in the mid-1960s as an outdoor event that hosted several different artists. These days, concerts take place in sports arenas, both open and closed, and even in huge ships. Visit creativetimes.co.uk's guide to explore more on the best rock festivals and their locations.
Paléo Festival
The Paléo Festival started as a modest rock festival back in 1976 in Nyon, Switzerland a small town between Lausanne and Geneva. The festival, nowadays known as the Paléo in short, made its debut near Lake Geneva and has now grown to become one of the 5 biggest rock festivals in Europe.
The Paléo Festival now includes international artists and has moved from its original venue near Lake Geneva, that only had 2 stages to its new location at the Plaine de L'Asse in Nyon, that is easily accessible through public transport and has 6 main stages to host a wide array of artists.
The festival takes place towards the end of July every year and lasts a total of 6 days from Tuesday to Sunday. Other festival attractions including a huge fireworks display that occurs just before the concert at the main stage begins.
The Paléo Festival hosts all sorts of artists, both international and local, in six stages as mentioned below:
The Main Stage
The Arches which has currently replaced the Chapiteau since 2013
The Club Tent
The hive (which was previously called the Crique)
The Dome
The Détour (which hosted musical entertainment by artists at no fee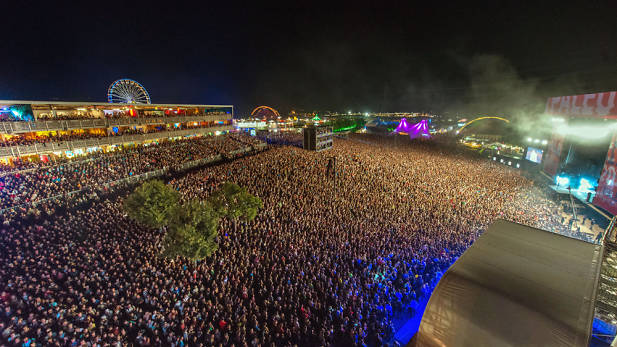 Tickets to the Paléo Festival, usually sell out very quickly. If you are not quick enough, within days after ticket sales they are made official you could miss on tickets. In 2009, tickets to the Paléo Festival sold out in a record 150 minutes. A total of 220,000 tickets sold within that short time.
Oxegen
Originally called the Witnness festival and sponsored by Guinness, the Oxegen festival is another of the top 5 biggest festivals in Europe. The festival began in 2004 in Ireland and features only Rock, Pop and Dance music genres. The festival takes place in Punchestown Racecourse, County Kildare, Ireland.
The Oxegen festival is also famous for being the most eco-friendly concert in the world because it is one of the first really large 100% carbon neutral festivals in the world.
The Oxegen festival originally began as a 3-day event but currently has a 4 day event format.
To learn more about rock festival visit our guide here and start mapping out your favorite rock festival locations in the world.
396 total views, 2 views today