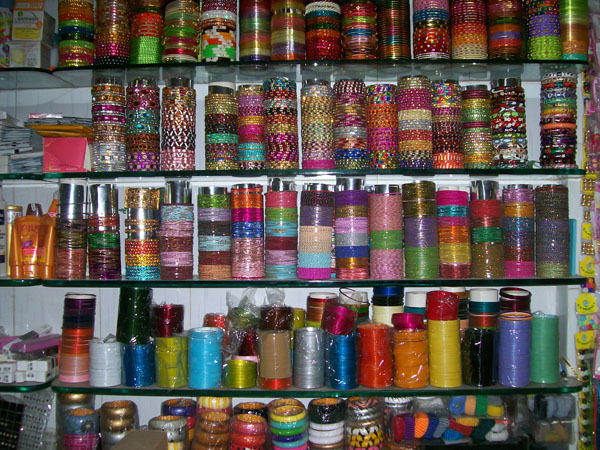 Chudiya – Bangles
"Chudi nahi mera dil hain, dekho dekho tute na"
"Mere hatho me nau nau chudiya hain, zara theharo sajan majburiya hain"
Word itself sounds so romantic for lovers and married couples, which is one of the ornaments of married woman. An Indian bangle is considered to be a vital part of female costume since times immemorial.
Indian bangles combine gracefully to form the style and class for woman of today. In all over India females are crazy and fond of bangles. Bangles are usually wristlets, which adorn the dainty wrists of any woman with unparalleled grace.
It could be made of variety of materials like glass, metal, plastic, diamonds, stones, colorful threads, kundan, zardoshi, small  pieces of  glass studded in beautiful way, pearls, silver, gold, platinum, white gold, certain sand of few areas and many more.
Available in elaborate designs, bangles are the perfect option to edge out the traditional fashion statement.
It's not unknown thing for rest of the world. Today broad bangle (kada) made of wood is in demand of young girls, which can be wearable with any outfit.
Indian bangles are available in a variety of colors and designs. Indian bangles are famous all over the world for their beauty, vibrant colors and finesse. Unlimited colors are used in making of it, which depends on its designer.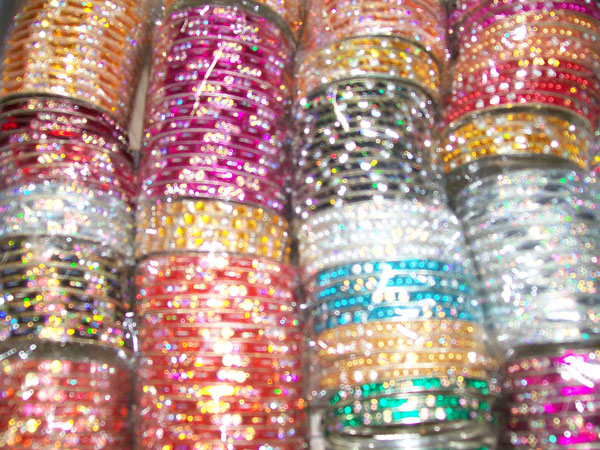 Bangles are a vital part of India's ethnicity. It's timeless ornament which was used in ancient era for men and women. The significance attached to bangles by a married woman in India is almost paranoiac. Along with gold, silver and other precious metal, glass bangles are considered a symbol of the well-being of her husband and sons in certain orthodox communities. In fact it is also regarded as a means to identify a married woman. Not only married woman it also forms to be a style statement of the independent unmarried sect. The young girls wear bangles now with as much grace as their mothers and other female elder members.
The bangles are now considered to be wonderful items to spruce up any outfit, as they are vibrant in colors and motifs and varied in effect. Girls are wearing it with every outfit, broad bangle now in demand, if your girlfriend is angry on you gift her colorful bangles she will be surprised and give you warm hug. Generally in India we can get it from everywhere, it's not fabricated or sold in any particular place in India.
South Indians are very fond of glass bangles or vibrant color like chili red, dark blue and green, energetic orange and lovely pink. They are also fond of gold bangles. It's a tradition to give gold bangles to every daughter from her parents as marriage gift.
Bollywood is having several songs picturized on various artists. Like "gori he kalaiya tu lade muje hari hari chudiya, apana banale muje sajana, it's picturized on Amitabh Bachchan and Jaya Prada. The list will be endless.
For me I just love bangles. I have matching colored bangles for all my suits and saris. I prefer trendy broad bangles with western outfit, it looks great on it.
In Surat, there is a place which is called chauta bazaar, where one can get unbelievable range for bangles. I always get confused while I'm going for shopping for bangles.
One should be good in bargain. But believe me one will get her choice of bangles for sure. The cost of bangles depends on type of it, if it's only glass bangles one can get it by spending 50 to 100 rupees for dozen.
So, cost can range from few hundred rupees to thousand rupees depending on design and material used in its fabrication.
Many bangles are beautifully studded with Kundan stones and decorated with golden threads and beads. To decorate bangles pieces of glasses are fixed in certain sand material used bangles. One should have enough creative to design bangles. It strongly represents traditional Indian handicraft and is ideal for any special occasion.
I think the craze of bangles will remain as it is in future also, with more experimental colors and with more range.
What do you say, ladies?