We have spoken to Julia, one of the founders at ezebee.com to learn a little more about the company and their story so far.
Tell us about ezebee and the Journey so far.
ezebee.com was founded by Ossian Vogel, Frank de Vries und Julia Emmert in the midst of the economic crisis . When small business owners were facing the most competition against big brands, we realized that selling online is crucial for small companies to succeed, but to do this can be very complicated and expensive. By establishing ezebee.com, we wanted to solve this problem and create a free easy-to-use platform to get your businesses online (and visible) within minutes.

We started with a super enthusiastic and very international team in 2013 in 7 languages. We had an immediate success in Spain and Germany, but actually our first users came from Hong Kong! As India is one of the fastest growing online markets worldwide, with a huge amount of potential online vendors, we decided to venture into India in Summer 2015. On the first day, 60 people had already registered and opened more than 20 shops!
What is your Team Size? Introduce your team
Currently we have got a team of about 20 people working for us. The headquarters is located in Switzerland, our international team of marketing and country managers is located in Spain, and the development is done in Romania. So far everything is based in Europe, but as we are growing fast in India we are thinking about opening an Asian headquarter in Delhi in 2016….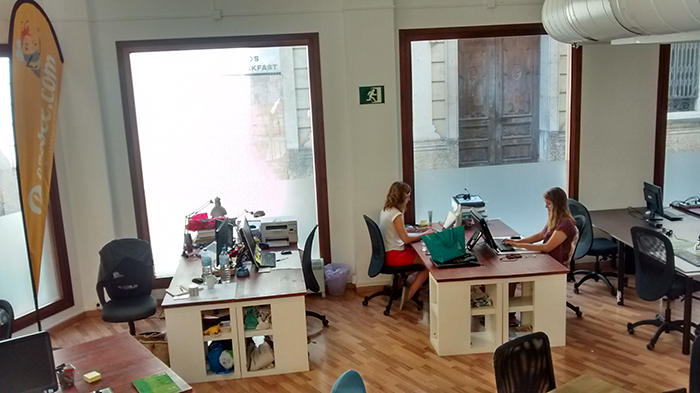 What Does Success Look Like for the Company?
We are successful, when our users are! I think that is very important to know. Only successful vendors will make ezebee.com a successful platform and vice versa. That's why we do everything we can to make success as easy as possible for our members!
About ezebee itself, well: we are currently available in 9 languages, featuring shops from more than 150 countries. They offer all kinds of products and services. In India alone more than 100 new shops open every day. I guess you can call that success 😉
What is the Biggest Risk to the Company?
To stop developing and be satisfied with what we already reached. In Internet you always have to be up to date and keep track with new developments. If you are not, you are doomed.
That's why we are currently working full speed on our new version, which is going to be up and running in Q1 2016. This new ezebee will be graph based and totally up to date on the tech side.  So don't miss it!
What's the Current Runway, and What Are Future Funding Plans?
We are currently funded until mid 2016 and are in contact with some Indian Vcs – still looking out for others. But our goal is to get ezebee to pay for itself by the end of 2016.
We are currently growing by about 40 % every month – especial in India, but also in Germany and Italy.
We are planing to venture into new targeting groups. As you might have seen most of the products offered on ezebee.com are handmade and DIY products. That's great, because it's exactly the kind of businesses we want to attract. But there is so much more that people have to offer: services, rentals, workshops… all that can, and should be, offered in our marketplace!
What are the Services offered and the Service locations?
Every member can create their complete website with an online shop, and sell everything you want to offer. – as long as its legal. You get you own blog, your own shop, including a Facebook and Blog App so you also can sell on your own blog and on Facebook. We also have a deep social media integration, so managing your social networks with ezebee.com is quite simple. And if you are not interested in all of that, you still can post your offers as classified ads on the platform.
Our location? Well… the internet! Our buyers and sellers are to be found all over the world. But most of our users come from Europe and India.
What are the Future plans?
As mentioned we are currently working on our new version that's going to be launched soon – that the first step. The second one will be to attack new verticals, as rentals and services, and then we also want to venture into new markets in the Asian-Pacific area. We are currently thinking about Indonesia or the Philippines…
The platform ezebee.com is growing every day, especially in India and across Europe. It is a really good connection from buyers and sellers all over the world who don't want to pay expensive commissions or fees.
If you want to take a look at ezebee.com you can do so by clicking here!