Chiang Mai is a happening travelling place located in the foothills of northern Thailand. Its landscape attracts thousands of travelers every year. There is lot to do in Chiang Mai including visiting places like Wat Phra Singh, Wat Chiang Man, Wat Chedi Luang, Wat Phrachao Mengrai, Wat Jet Yod, Wat Suan Dok, Wat Umong along with Museums and exquisite Gardens.
To travel comfortable, you can think of renting a bike. What best option can you have than Chiang Mai Scooter Rental itself? It comes with cool range of bikes and great addons and services.
They offer:
Quality motorcycles which are not older than 3 years and are in excellent condition for you to rent and drive straightaway.
They provide helmet (1 or 2 as per request) of "three quarters" which comes with iridium windshield.
While driving what is must is a medical insurance. Scooter rental comes with standard thai medical insurance for the driver.
And a first-aid kit in case of any small injuries that you might come across.
In case you require anti-dust mask, you got it as well.
To lock the bike, you are provided with a free chain with a lock.
As you're in a foreign country, you may require a SIM card which comes with cost-effective international calling charges and internet access. You got it with the renting service.
A free maintenance service (oil change, replacement of word tires, light bulbs etc.)
One of the best offers is the free delivery and pick-up to/from the place you're staying.
You also get roadside assistance.
In case of accidents occurrences, repairing of motorcycles is done at the official dealerships like Yamaha and Honda at affordable prices.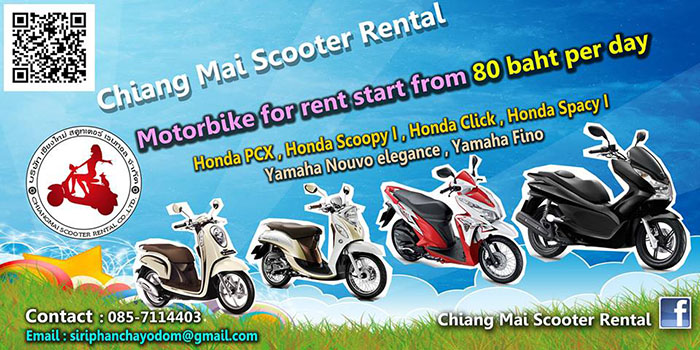 Check out their facebook page for the latest offers and photographs of motorcycles that you may like to book well in advance prior to reaching to Chiang Mai: https://www.facebook.com/ChiangMaiScooterRental