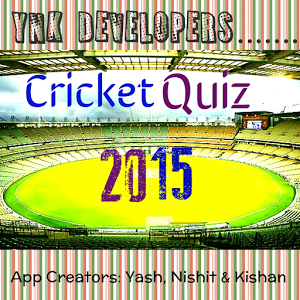 Three enthusiastic teenagers from Rajkot – Kishan Tanna Yash Buddhdev Nishit Kalavadia – have created this mobile game for Cricket Lovers.
Download: Cricket Quiz 2015 Mobile Game.
Description:
Think you are a huge cricket fan? Then get ready to put your knowledge to the ultimate test in ' Cricket Quiz 2015'. Answer the questions correctly to score bIG points. You have four options to choose from. Be careful, a wrong answer is equivalent to a wicket lost. So are you up for the challenge?
Cricket Quiz 2015
For the ultimate cricket fan! Guess the Cricket Star brings you all your favourite cricketers from around the globe so that you can test your cricketing knowledge from the convenience of your palm. This cricket quiz game is like no other. Just look at the picture and guess the cricketer. Its simple, yet highly addictive. If you are an ardent cricket fan, then this is one cricket game you can't afford to miss!
* SUPER ADDICTIVE
With more than a hundred cricket players from all over the world, your cricketing IQ will be challenged for sure! From Tendulkar, Warne and Kallis to McCullum, Broad, Haq and Gayle, you will find the biggest cricket stars of cricket in this top rated trivia game!
* REGULAR UPDATES
With more players added constantly, we'll ensure that your knowledge of cricket stays fresh!
And what does this trio say at the end?
Please feel free to send your suggestions to our email.
Please be careful while writing review as making an app takes a lot of time and money.
Please bare with our mistakes as we are also humans and we tend to make mistakes while making our FIRST APPLICATION