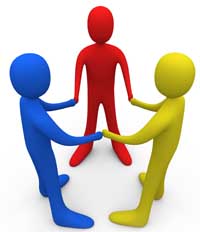 Human by nature is a social animal. Our ancestors in their primitive stage were naïve and rustic. As a natural progression we started forming unions and families and discovering the social side of us.
As the society system set in the psyche of the humans we were exposed to the gamut of intertwined complexities called relationship. Let's navigate straight to today's time. Words like instant coffee,20-20, ready to eat foods and many such aptly decipher the pace of today's life. Patience and paucity are dying a natural death. Getting into a relationship and then walking out of it is as casual as getting into a pair of jeans and then sliding it out.
The intent of being polygamous with their preferences and choices is increasingly becoming a character. The adventure of being multi-partnered satisfies their urge to be a part of the sophisticated modernity. The need of a relationship now speaks language which may be bilingual or more. Some discharge their dishonesty by an honest intent openly declaring themselves "flirt". But, the real champs are those who manipulate themselves to perfection. Humans are selfish agreed as every one of us are but how will you rate people who fabricate artificial strings of relationship just to serve his or her purpose. A web of emotions is weaved to trap innocent hearts in quest of emotional support. That very fling for someone may result in emotional scars for the victim as he is emotionally raped and ripped apart.
The ability to nurture self-respect loses its potential. All the happenings around him or her appears to be fickle and fay. The worst part arrives when he starts questioning his existence and identity because of the visuals simulated by that other person. Deliberating the pain of a heartbroken can fill in number of pages. However a care full thought should be given by the intelligentsia as to why these behavior is finding ready takers in our society. It is not that earlier in our society there was a total resistance to infidelity neither that all were totally loyal to their partners in question. However, there was a restrained behavior over such acts not because people had high morals and values but because the society as a whole was stringent in its behavior. Modernity has entered our society very rapidly leaving very less time for them to be mentally prepared for this modernity. Global exposure is increasing day by day but the ability to interpret, comprehend and grind it to suit the local lifestyle is still at bay.
The ambitions of people are soaring sky high and to reach there they are ready to make relationships the ladder. Being materialistic is now becoming a norm and consumption a necessity. They usurp trust in bargain of selfish gains. The avenues of indulging in consumption are increasing such as social networking sites like Facebook, Twiter. The increasing age of marriage in our society has rendered youth to make colleges and workplace laboratory for their experiment. Such changes can have an undesirable effects on the social fabric of the society. The problem can be addressed if the wisdom of the elders is coupled with the energy of the youth. After all 'Happiness' is one of the basic rights given by the democracy to us.