ASHRAF ANSARI: is a professional journalist of Pakistan. He spent most of his time for media. His more than 45 years experience in journalism carry inspiring message for the young journalists not only in Pakistan but also in other countries of South Asia.
"Most journalists in South Asia lack skills, courage and commitment says Ashraf Ansari."
(Interview taken by Zahid Gishkori, a Speakbindas reader from Pakistan)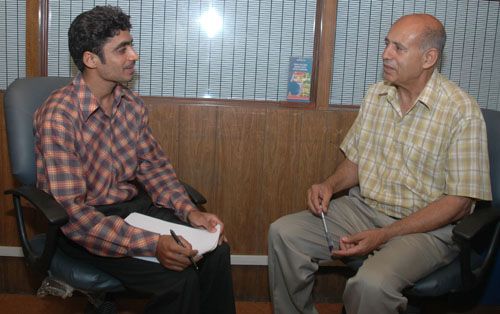 (Ansari is being interviewed by Zahid Gishkori for Speakbindas)
Zahid Gishkori
Tell us about your early life and education?
Ansari
In the pre-partition days my family lived at Shimla (India) a fascinating hill station, which was summer capital of un-divided India. My family moved to Lahore at the time of partition when I was in childhood. Later we moved to Pasrur (Sialkot). Perhaps my father wanted to live as close to the hills as possible and may be for the reason that the hills overlooking Pasrur were off shoot of the Himalayas where Shimla is located. I started my early education at Pasrur. After matriculation I moved to Murray College Silakot which was in those days a very prestigious educational institution of Pakistan and was also known for its association with Dr. Muhammad Iqbal. I did my Masters in International Relations (IR) from Quaid-e-Azam University where my majors included foreign policies of India, China and Pakistan as well as International Law.
Zahid Gishkori
What was your ambition when you were at the university and how did you take to journalism?
Ansari
Ambition? No, I had no ambition. I was a dreamer (smile). I only wanted to serve the people in some useful capacity but without losing my sense of dignity and freedom. First I thought I should go to teaching, then journalism attracted me. I met with senior editors of various newspapers telling them that I would like to become a journalist. Most of senior journalists said they were impressed with my academic record as well as my expression but advised me to go to civil service instead of going through toils of journalism. One of the most illustrious journalists of the country told me that I was cut for civil service or for diplomatic assignment. Disappointed, I turned to teaching and started career at a European type school in Rawalpindi.
I also taught IR at university level. But as soon as I got an opportunity to become a journalist I left teaching and accepted position in Radio Pakistan as sub-editor on being selected by Federal Public Service Commission. So this is how I got to journalism. My choice for journalism was due to the reason that it would afford me opportunity of highlighting grievances of the people and national issues in the right perspective.
Zahid Gishkori
Can you give an account of your upward movement in professional journalism?
Ansari
Though I reached the highest ranks Controller News, Current Affairs and Reporting in Radio Pakistan, frankly I do not believe in promotions in terms of ranks. It does not matter much for a journalist to attain a high rank if one does not fulfill the objectives of the profession. A very junior journalist can do better like you if you are motivated and committed to the norms of journalism. I started my career with extreme dedication and was lucky that I was recognized and given important assignments right in the beginning.
An anecdote. Late Mr. Zulfikar Ali Bhutto was Prime Minster of Pakistan and he was fond of listening to radio programme. Once he rang up Director General Radio Pakistan asking him to send a journalist who would interview him on Pakistan-Australia relations. The Director General looked around and could not find a senior radio journalist who could confidently face the Prime Minister. Finally he called me and said, "You are the only persons who can frankly take to Z.A. Bhutto without annoying him. When I met Bhutto I found that a senior most journalist of television had also been called to team up with me. When we two sat before Z.A. Butto he had a look at our faces and turned to me to invite me to start the interview. While Butto was replying I kept on looking at the expression of his face. I gathered that he was glad at my first question. Strangely he asked me to also ask the second question third, fourth and fifth without turning to other senior television journalist. After that Mr. Butto asked me whether that was not enough. I frankly said it was not. He was not used to hear no in any case so naturally he gave an impression of being surprised. He asked me what else I was going to ask him. I promptly asked a question and told him it was a final question to save my life! That is how achievements and courage on my part have marked my whole career of journalism and it was all very satisfying.
Zahid Gishkori
Were you able to show courage during dictatorship in Pakistan, which was a long spell of time?
Ansari
Since I had come to journalism not because of any compulsion and had room in other professions, I was never under pressure of officialdom thinking that if I was thrown out of the profession I would take to teaching or go for law. Marshal Law days of General Ziaul Haq were the worst for journalists. I was Bureu Chief of Radio Pakistan at Bahawalpur when there was a tragic rail accident in early hours of a day. I rushed to the scene of occurrence and reported the news to central desk and the news was broadcast in 6:00 hour's bulletin of Radio Pakistan. When I again went to the scene to update for the next bulletin, there I found Governor General Punjab Gilani who asked me as to why I had reported so many causalities without clearance from Marshal Law authorities. I told him it was my professional duty. He was annoyed and said that he would like to meet me afterwards on this issue. When I met him I stood by my position and did not express any apology. He told me that I was the only journalist that had impressed him and let me go.
Zahid Gishkori
What is the difference between a public and private organizations when it comes to demands on an independent mind journalist?
Ansari
Unfortunately I don't agree with those who blame government when they fail to deliver. My experience is that a journalist can do a lot even being in public sector media organization provided one has skill and commitment to the people. In our feudal society the private sector puts more curbs on journalist than government. The private sector boss is conspicuously visible while the government is invisible. Those who blame the government bosses, they are mostly lacking in competence and commitment.
Zahid Gishkori
Would you tell about your experiences as a media person in foreign countries?
Ansari
I had the chance to visit almost forty countries of the world in all the continents. I worked for four years as senior editor with voice of Germany, Cologne. In advanced countries the journalist is really free to report and can be imaginative but in less developed countries like India and Pakistan, the situation is somewhat suffocating.
Zahid Gishkori
What is lacking in the media of our region?
Ansari
Most of journalists in our region, I may be excused, are in my view are not really cut for journalism. They lack skills and required commitment or vision.
Zahid Gishkori
How do you feel in working in newspaper after serving electronic media for a long time?
Ansari
I feel that radio and TV are more relevant to the needs of societies in South Asia because of the fact that most people in the region have no capability to read newspapers or Magazines.
Zahid Gishkori
What are your activities in free time?
Ansari
I am fond of long walks into the hills or along river and canals, reading books and newspapers and gardening.
Zahid Gishkori
Do you find enough time for your family in this hectic job?
Ansari
No. When I was in radio I used to work sometimes 18 hours a day without taking any weekly off but even now being in newspaper I do not find much time for my family.
Zahid Gishkori
You met a lot of people, who impressed you most?
Ansari
I was impressed by many people. They belong to various sections of society I can recall a peon named Abdul Aziz who impressed me most in Radio Pakistan. No body else impressed me so much.
Zahid Gishkori
How do you rate this media channel?
Ansari
Though online magazines are a new development but I am happy that online magazines like Speakbindas are creating healthy tradition and trying to touch grass routes. I must thank Mr. Devang Vibhakar for giving me a chance to express my views and tell about myself. This is a proof that Speakbindas would not be monopolized by so called political elite. I was also delighted by the way this interview was conducted in very cordial manner.
——————————————————————————–
The Interviewer / writer is 28 year old journalist based in Islamabad (Pakistan). He writes for daily English newspapers in Pakistan and also works with foreign media. He did his Masters in English Language and Literature and Political Science from BZU Multan and M.Sc Mass Communication from AIOU Islamabad. He can be reached at: zahidgishkori@gmail.com