These days, having a website is equal to having a visiting card ! When you call a prospective client or send an e-mail, he would first expect to have a look at your website. It's must for all businesses, those who wish to grow. And for a website what is important is hosting. Let me introduce you to HostIcon, one of the finest hosting companies that I have come across.
I have been active into fields of blogging & internet marketing for last six years. I know how important an active hosting service is which just does not satisfy your technical needs but also has a up-to-mark customer service. Of course, variety in hosting plans as per client's need is essential for any hosting company to survive but that is something basic that most of the hosting companies offer. What is more important is server's UP time and customer care in case any technical or sales related queries arise.
Hosting Packages offered: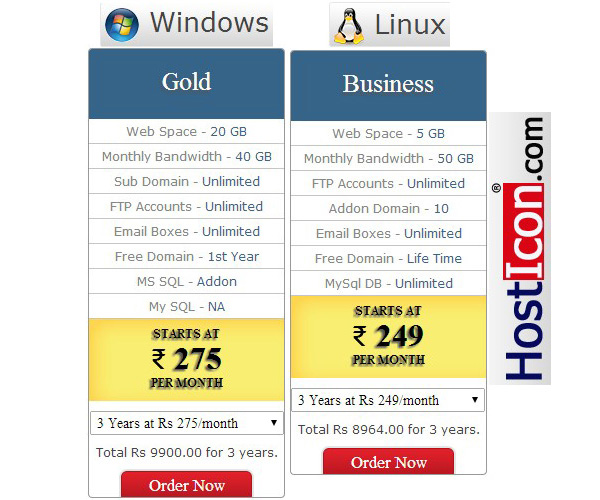 HostIcon offers hosting service in both the platforms, i.e. Windows Hosting & Linux Hosting. Both the plans have different packages which do match the need of small to professional clients. Hosting plans start from as low as INR 43/- (less than a dollar) and goes upto INR 600 (approx $10) per month. If you take a look at Gold package on Windows Hosting & Business Package on Linux Hosting(see above image), and study their features such as web space, monthly bandwidth, no. of FTP accounts, addon domains allowed, free domain, no. of databases allowed etc., you would definitely find them the best possible offer you can avail for the money you are spending.
Other than this, for resellers and high-end users they have advanced options which come in form of Reseller Hosting, VPS Hosting and Dedicated Server.
Domain Registration:
It's like one shop for all your needs ! You also get the domain registration facility from HostIcon. Chose the domain you want, buy it and manage both the domain and hosting accounts from a single place. It saves your time.
Payment system:
HostIcon accepts all leading ways of payment, i.e. Paypal, 2checkout, ccavenue, Bank Transfer, Western Union, Wire Transfer and now they are one of the first hosting companies in India which accepts bitcoin.
Customer Care Service:
Their customer service is 24/7 for all round the year. Based upon the criticalness of your issue, your tickets would be replied accordingly. Normally, their customer service is excellent in the industry.
Site offers viewing of pricing both in INR as well USD format. To do this, you simply need to click on an option in which currency you need to see the rates. You can also check with any available discounts and offers, at the bottom of the page. Generally, they offer 10%-20% discount based on which package you are buying.