You watched kids living in Slum in the recent blockbuster and Oscar winning Slumdog Millionaire. Now get to see a real Slum kid who speaks many languages to sell peacock feathers.
A visitor from Canada has a Youtube channel by name sufiwindsurfing.
During his visit to India, he met a kid who was selling peacock feathers. Now, this is a common sight of kids selling such stuffs on famous tourist points, but what was unique and different about his experience, was this kid's extra ordinary ability to speak various languages such as French, Italian, German, RB, Hirani, Russian, Japanese, English and Arabic.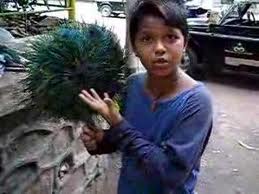 In the video the kid says that, because visitors from various countries do visit the place, he has learnt various languages so as he can easily sell peacock feathers. The kid's memory and skill of learning new languages will blow your mind away. From his looks, he seems around 12 to 14 years old.
To learn such languages, we need to attend classes of foreign language teaching institutes, and still we can not speak them with the fluency this kid is delivering.
Truly and outstanding Indian kid.
Situations and experiences is the real process of life. And this Indian kid proves it.