Last week, I did share my views on online retail market trend in India through various posts. Did you notice that I missed out on a specific market which infact fetches maximum number of sells? Yes, I'm talking about female consumers. There are some mix and some dedicated e-commerce platforms for women. One such is INONIT.
INONIT covers topics which are related to women such as fashion, beauty, living, online shopping for women and news. If you look into their shopping area, they sell items which are on high demand by female consumers such as jewellery, accessories, bags, Indian clothing, Western wear, shoes etc. Each of which comes with a fascinating collection to chose from. You gotta see it to believe it.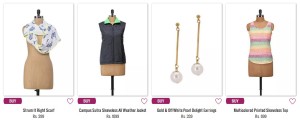 INONIT, is not just another online shopping platform for women, but it also covers latest trends of fashion by featuring relevant stories , news & tips. It gives quite an interesting highlight of what celebrities are wearing these days, what are the latest fashion trends etc. In their DIY (Do It Yourself) section, you get to know some of the interesting tricks to make things on your own. And as we know that for female consumers, STYLE is what matters the most ! And hence INONIT has a dedicated zone for the same called Style Tips. The name itself is self-defined !
We would definitely recommend INONIT for all Indian women who are lovers of fashion. This is a platform made by women, for women and about women !