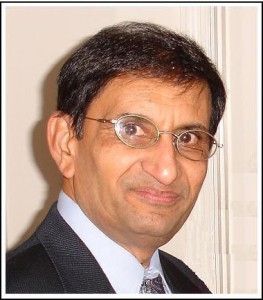 Mahendra Shah, born in 1945, migrated to the U.S. in 1974.  Originally an architect, Mahendra has been a successful entrepreneur and businessman for many years.  While devoting his professional life to real estate and retail businesses, he has remained an enthusiastic contributor to the Pittsburgh area Indian community.
Over the years, he has recorded his humorous observations on the plight of the immigrant Indian in America in the form of cartoons. Also, keen in  poetry, essays and paintings. Long appreciated, his work was originally published by Pittsburgh's local Gujarati magazine and is now featured in several publications, web sites and exhibitions.
Mahendra has been intrigued and amused b lifestyle of his fellow Indians. That lifestyle has served as the inspiration of his work.
The culmination of his artistic skills, architectural background, humorus nature, observation and literacy touch can be seen in his cartoons.
Recently published a unique book "Ame American Amdavadi", a compilation of more than 260 cartoons. This book is a result of more than 40 years of creativity and has received favorable reviews from all over the world. Mahendra also enjoys doing paintings.
Every eyar as part of Independence Day celebration in Pittsburgh, he is commissioned to do portrait of our great great legendary freedom fighters.
So far, he has made Gandhiji, Vivekananda, Rabindranath Tagore and this year Sri. Chhatrapati Shivaji is center of attraction. Mahendra has dedicated his life to entertaining those around him through the combination of his two passions – art & humor.Speakbindas has very interesting online conversation with him. Below is the fruits of the same.
Speakbindas : Tell us about you. Where do you basically belong to and about your education?
Mahendra Shah : Originally from North Gujarat, Sardarpur. Did Architecture, B.Arch, class of '68 from MS University, Baroda.
Speakbindas : How and when you thought of going to USA?
Mahendra Shah : Back in 70's there was a demand for Architects, Engineers and Doctors. In USA. Permanent residency was offered during that period.
Many of us friends working in Architect to Govt. during 70's decided to grab this opportunity and migrated to USA. I came in 1974.
Speakbindas : How did the love of creating cartoon started?
Mahendra Shah : About the cartooning.., from childhood I liked to draw, had sense of humor, reading habits gave me little literary touch. While in college and at work, based on in house or surrounding events will click my mind and will inspire me to transform those in to a drawing and cartoon form. While in high school, was caught not paying attention during Gujarati  class on Sarsvatichandra lecture, when teacher saw my notebook in pictorial form of Sarsvatichandra's story I was drawing   while  he was narrating in the class, he was amazed! Instead of getting punished, I was applauded by whole class including class teacher! My architectural background helped me draw better three dimensional which brings reality and depth to the set of a cartoon. Notice between typical cartoonists who are good at drawing human characters but lacks foregrounds and backgrounds in their creation depending upon the theme, in my case, my architectural sense helps me to overcome that lacking ingredient. I used to do freelance renderings for most practicing Architects in Amdavad before migrating to USA.
Speakbindas : Tell us about innovation creations in the field of creating cartoons.
Mahendra Shah : cartoonist's eyes, ears and nose are always open. He can see, smell and hear the surroundings. Will grab the timely opportunity and will start working on the drawing board doesn't have to go look for the subject; I am surrounded by them! Current news, parties, friends, neighbors, relatives, religion, politics, social behaviors help me find a right topic for the cartoons. Only, you have to keep your eye, nose, ear open. And imaginative, creative mind will work by it self!  When heard the Satyam news on internet came up with a cartoon in half an hour showing old and new logo of Satyam!
Speakbindas : We heard that very shortly you are launching new blog, which has some connections with R K Laxman, the famous cartoonist. Tell us about it.
Mahendra Shah: RK is only cartoonist in India I admire, I learned lot from him reading captions and his  drawing style from Times of India and his 7 volumes of cartoons which are on my book self along with 30 other cartoon books from famous cartoonists of the World. He had  "You said it" series in Times of India, I said to my self: Why not   "I said it too"? So, I gave my blog the name " I said it too". By doing this way Getting inspiration from him as well as honoring the  great legend.
Speakbindas: Where do you live in USA? How is the American and Indian culture there?
Mahendra Shah : I live in Pittsburgh, Pennsylvania, 400 miles west of New York. It's different from India, but some way, it's good, some way it's bad too. It's how you look at it. We can learn lot and adopt lot from American culture, still keeping our Indian heritage, culture intact and eliminating bad Indian and American lifestyle and get the best of both. There is no sense complaining America while you are getting bread and butter from it at the same time criticizing Motherland which has more to give.
Speakbindas : Where can people get to see your creations of cartoons and others?
Mahendra Shah:  My web site:   www.ameamericanamdavadi.com, Blog: http://isaidittoo.blogspot.com
By e mailing your e mail address to mahendraaruna1@gmail.com to receive weekly cartoons every Sunday. You will have my cartoon first thing every Sunday morning when you have your first sip of tea. I call it "Chai with Mahendra! "  Also, exhibitions in several cities all over the World time to time, event information posted on the blog.
Speakbindas : What are you hobbies? Your favorite food, and favorite movies?Mahendra Shah: Cartooning, Painting, writing, Kavitartooning, Joking, walking (Five miles walk with wife everyday religiously.., "rain or shine!" ) Favorite food: Gujarati food. Of course, cooked by my wife is my first priority!
Speakbindas : How often do you visit India? And how do you spend your time in India?
Mahendra Shah :  Every three, four years. Visiting friends and relatives. Visiting places, every visit to India, 7 -10 days trip to any vacation, resort, tourist place. Exhibition of my cartoons. Interviews, press, media  release.
Speakbindas: Your special message to your fans and Speakbindas readers.
Mahendra Shah: Laugh! Cartooning is one of the  medium for that. Life is too short, have fun, enjoy the life. In good or bad time, take it easy. An Indian patient, when he tells all the problems of the World he has, like he cannot sleep, life his full of stress, swatting all the time, hyper tension etc, etc. to my Indian family doctor friend, the doctor's prescription would be.., he will pull his desk drawer and getting my cartoon book from it, handing over to the patient and will tell.., "Take this, Read two cartoons from Mahendra's book with a glass of water before you go to bed, all your problems will go away with in no time!
Click on below image for Mahendra Shah's bio in Gujarati.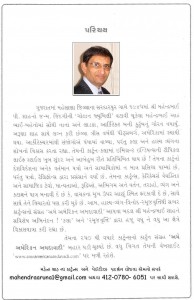 Below mentioned list talks about Mr. Shah's successful career as a cartoonist.
Publications

Exhibitions

§ Gurjar (Pittsburgh, PA)

§ Gujarat Samachar

§ Gurjari

§ Gujarat Darpan

§ Jain Digest

§ Pittsburgh Patrkia

§ Gujarat Times

§ Read Gujarati.com

§ Sandesh

§ Lokmitra

§ Lokvani.com

§ Pustakalay.com

§ Every Friday "Sunday E-Mahefil"

§ E-cartooning: Every first of the month E-cartoon to more than 400 E-friends.

§ Every Saturday "Hasya Darbar"

§ Full page News story in Pittsburgh Tribune Review Jan. 17, 18. 2008

§ Sunday E mahefil No. 141. Feb. 14. 2008, 4 page story on Mahendra with article, cartoons & paintings.

§ Mera Panna

§ Every saturday The South Asian Times

§ Amdavad Mirror- Times of India

§ Rediff.com

§ Zazi.com

§ GujaratOnline.com

§ Kesuda.com

§ Gunjan (California)

§ Opinion (U.K.)

§ Chitralekha

§ Kavi

§ Akhand Anand

§ Kumar

§ PittsburghIndian.com

§ Kavyasrushti

§ Matrubhasha (Australia)

§ Sadhana Saptahik

§ Gujarat Magazine

§ First book on cartoons "Ame American Amdavadi" published, Jan. 2005.

§ Press Conference, attended by major news papers, Magazines & TV media. Amdavad, India.

§ Book Vimochan, Amdavad, India, by Ratilal Borisagar

§ Book Vimochan, London by Prakash N. Shah Editor, Nirixak

§ JAINA Conventions every two years

§ Gujarati Samaj of Pgh's Fun Fair

§ Independence Day Celebration – Columbus, OH

§ Gujarat Literary Academy of NA – Sahitya Sammelan

§ 'Parivar' 10th Anniversary Celebration – London, UK

§ Huthisingh Visual Art Gallery – Ahmedabad, India (Inaugration by Dr. Kumarpal Desai)

§ Independence Day Celebration – Pittsburgh, PA

§ Eastern Religions Come to Western PA – Indiana University of Pennsylvania

§ Cartoons & Jain Painting Exhibition- Jain Center of America, NY

§ FOGANA @ Cleveland

§ Cartoons Exhibition – World Gujarati Conference, NJ

§ Cartoons Exhibition, Houston, TX

§ Cartoons Exhibition, Utsav Celebration, Pittsburgh, PA

§ Alaska Cruise, Celebrity

§ Europe, SOTC tours.

§ Vadodara, India.