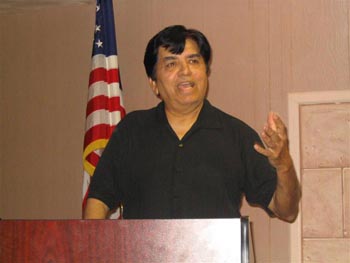 "I write from heart, speak from heart and live from heart as well. Hence only, I've been operated five angioplasty and one bypass surgery!"
Full name Harnish Sudhanlal Jani born on April 5, 1941 in ChhotaUdepur of Vadodara district. Coincidentally, it was the Indian festival of 'Ram Navmi' when he was born. With his humorous touch he says "If Ram knew that I was to born on this date, he would have chosen another date!" This is  Harnish Jani, the humorist.
Here is the brief summary of Harnish Jani for you. Also note, the notes in brackets after every detail, which is given by him. And also what you will read in Gujarati language, is written by him only! Please don't take it seriously… 😀
Family:
Mother – Sushilaben (Gruhlakshmi), Father – Sudhanlal (Farmer)
Wife – Hansa ('Boss')
Daughters – Aashini (Writer. She is married to Sandeep Desai, Computer Engineer and they have a daughter-Annika); Shivani (Bindas); Son – Sandip (Shy)
Education:
1962 – B.Sc., Gujarat University (Because didn't get admission in Engineering)
1964 – D.T.C. (Diploma in Textile), M.S. University (Because didn't get admission in M.Sc.)
1980 – Plastic Technology, New Jersey (Because can earn bunch of dollars)
Profession:
INDIA – Atul Products (The golden time of Bachelorhood) and Ambika Mill (Used to sleep during night-shifts) – Total six years.
AMERICA – Manager in Textile printing for seven years. (Where inspite of working as a donkey,didn't earn much)
For last 25 years working as Research Chemist in Plastic Industries (Have a colorful dot in the picture for keeping Global Environment clean. Earned name, money and work!)
Published books: 'Sudhan' – life's first book – (hopefully not the last!)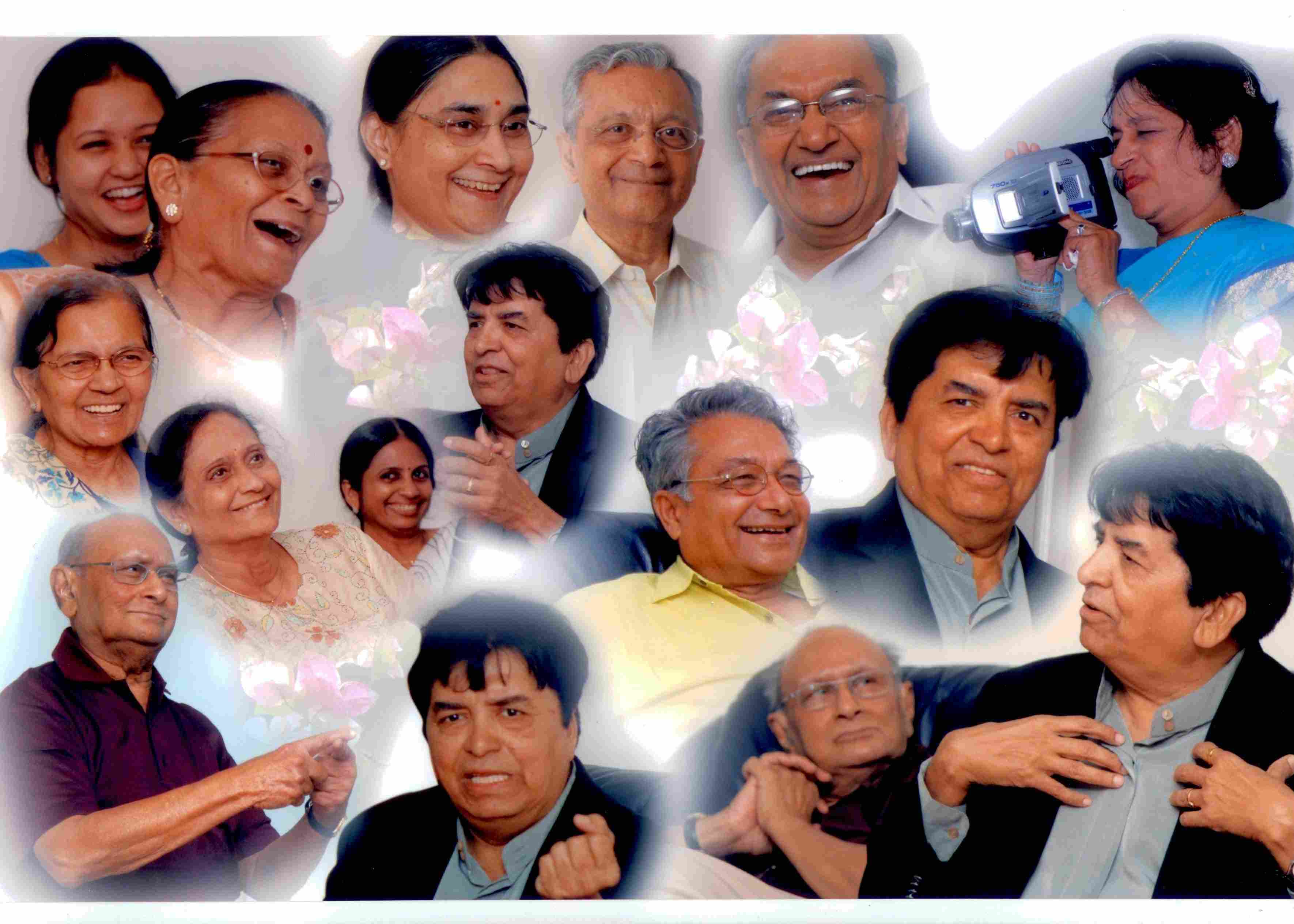 (Harnish Jani with Madhu Rye, Varsha Adalja, wife (with camera) and Ratilal Chandaria , Photographs by Great Filmfare photographer Dhiraj Chavda)
Harnishbhai was kind enough gifting his book 'Sudhan' to me. Now I didn't know him at all, only that he reads articles on Speakbindas. And just like that he arranged to send his book to me. The book contains various stories written by him, during the various years of his writing. He caught my attention from the introduction (પ્રસ્તાવના) itself. His writing seemed to be like the flowing water of river. At no place, I found that he tries arranging words or feelings, rather felt like he was talking with me, and I was listening him.
And here goes the Interview.
Q. What did evoke you to become a writer? Particularly a humorist?

A. Reading makes one want to write. Every humorist always sees the world differently. I always see the lighter side of the grave situation. I remember on our tour to Belgium, my wife was separated from our tourists group-I was nervous in my heart. Still I told tour manager "Let us get out of here, without her; this is the only chance to get rid of my wife." I also entertained other tourists by telling them"husband- wife" jokes. They did not believe that my wife has been lost. They thought that I made up the story. (Finally she joined the group after an hour with the help of local police).
As far as humor is concerned, one should be born with it. I was laughing at my birth. So the nurse slapped me on my behind and I started crying!
Q. How do you formalize a story before writing? Do you think of entire plot first in mind and then write it down, or with the initial or rough theme in mind, you start writing and then it goes on its own?

A. First of all, I decide the theme and then I always decide the end and then just start writing. I write as the story flows. I am a storyteller and I can present my views very clearly. In my early childhood, I would gather kids of my age at night and tell them story about kings and magicians or Arabian nights, or generally about a movie I saw or book I read.
Q. Who are your favorite writers? And which books you would suggest others as MUST READ?
A. Different strokes for different folks. One likes to read what suits one's temperament and personality. So someone may not like what pleases me. I like dozens of writers and dozens of favorite books. I have read very few Gujarati books in last 40 years, while I have read dozens of books of English, French and Italian literature. The Urdu writer Manto and Marathi writer P.L. Deshpande are my favorites.
Q. Has your writing passion, ever become a hurdle for your professional career?

A. No No, as a matter of fact my writing skills helped me in my professional career as a Plastics Research Chemist in writing my research papers and some of them have won the awards in science world. And to tell you the truth, my professional writings were shaped up like my Gujarati story writings. My stories start with the theme and it never leaves my subject till the end, just like my scientific papers.
Q. Recently, I read your book 'Sudhan', which has many humor stories written by you. I personally liked, "Meghdut" myself, as you have crafted the extreme feelings of the engineer. Which one is yours favorite?
A. My book "Sudhan" received the second prize in Humor category from Gujarat Sahitya Academy in 2007. All of the stories of "Sudhan" are my favorite. Any story that makes me laugh while writing it, I can tell my readers will enjoy it. The story "Meghdut" is not your average story with jokes or humor. The way story builds up is funny. I think people with a different sense of humor like it. I salute you for appreciating "Meghdut." I would E mail to any of your readers who is curious about the story. Just write me at
harnish5@yahoo.com
Q. Not only a humorist writer, but you can also entertain audience with your humorous speech too, which is not so common in writers. How come is that with you?

A. I love to talk. In every social party I tell jokes and stories for hours. Now I have diverted my hobby to larger groups and I changed my light jokes to literary funny stories. In other words I can say, I write my funny talk on piece of paper in a story form.
Q. From some stories in your book 'Sudhan', and from the last two chapters which are from your real life, we get to feel your love and attachment for your native "Rajpipla". It is said back in India here that, once a person goes to USA, he becomes an American, rather a money-gainer only. Is it true? From your stories, we got the message that you are still heartily connected with your native.

A. I always say, "You can take me out of Gujarat, but can not take Gujarat from me." So is true about Rajpipla my hometown. During my last visit in 2007, I couldn't find my Rajpipla and my people. That made me sad and brought tears – "Jane kaha gaye woh log- woh deen?" Now Rajpipla is in our heart and mind. It doesn't exist any more.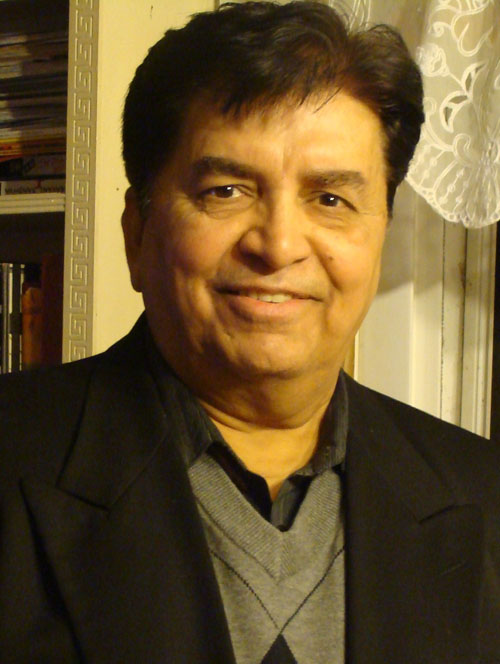 Q. From your stories, we can feel that, you are an observer that your story characters symbolize the common people's characters. What inspires you to write?

A. Waiting at the airports, train station or in public places, I love to observe people. If anybody talks to me once, I always find something interesting and peculiar about that person and will remember that automatically.
Q. If God allows you to undo one thing in your life. What it would be?

A.  I wrote many stories before coming to USA in 1969. Between 1969 and 1991, for 22 years, I did not read single Gujarati book and did not write any thing in Gujarati. I missed my golden years of creativity. I would ask God to undo those years.
Q. Tell us something about your family, and the role of your family members in your writing journey.

A. My wife Hansa and I have 3 children (they are no longer children). They all write poems and articles. My eldest Ashini is computer engineer in Xerox and she is a renowned poet. Shivani is my second child who is business manager for a cosmetics company and writes on her blog. Sandeep, our youngest is a student and writes on his blog. I am happy that my wife Hansa also writes. In short, all of us love to read and write. Yes, many times I discuss my story plot with my daughters.
Q.  Your favorite food, and movies?

A.  Let us see. I love Seafood especially lobsters and crabs. After residing in USA for years, I had a chance to enjoy different cuisines -Italian, Mexican, Chinese, Japanese and American .However I always have Seafood in any of them.. Let me tell you this, I would leave every thing to enjoy my wife's Dal Thokari. That is the top on my list.
As far as movies are concerned, I have seen hundreds of movies. I am a movie buff and I may have at least 50 favorite movies.

Q. What are your other hobbies?

A. I love music, Indian classical music. I am lucky enough to attend most of the classical music artists of India in New York. I also enjoy Art -paintings and love to visit museums. I also love to draw.

Q. What else can you do besides writing?

A. In 1992-1994, I produced, directed, wrote and presented "Gujarat Darshan" a half hour weekly program on cable TV. That was a first of a kind in USA.
Q. Any special message you would like give to your fans?

A. This is my message-"Thank you for reading me. I hope to meet your expectations all the time."
As Lincoln said "I don't know the formula for success, but I know the formula for failure-Try to please everyone."