19 years old, Ishita Kakkad is based in Rajkot. I have had this chance of knowing about her skills recently at Rajkot Indoor Stadium, where she and her four associates, Master Pankaj, Jaydipbhai Bhatti, Rajubhai and Kunalbhai attempted to break a Guinness World Record for cutting hair for continuously 51 hours.
Ishita has already registered her name in Limca Book of National Records. She can perform hair cutting by folding a cloth on her eyes, being blind and having six scissors in her hand. This was never done before by anyone. And without the blind-fold, she can perform hair cutting with seven scissors at the same time. It is a remarkable achievement for a teenager.
Ishita's mother run a beauty parlor 'Raj Beauty Parlor' in Rajkot. She says "Master Pankaj, a well known hair dresser from Ahmedabad had organized a workshop in Morbi about hair cutting. Ishtia showed her desire to participate in the same. She went there, attended workshop. And then she declared that she can easily do hair cutting. Now she didn't had any experience in the field, except seeing us in the beauty parlour. But her desire was so strong that we allowed her at our parlous. And to our wonders, she was right on the track from very first day."
When I visited them, they were on the attempt of breaking Guinness World Record for cutting hair continuously for 51 hours. They were five of them. And girls from Rajkot were invited, where they could get their hair cut for free. A blind home for girls too was invited, and blind beneficiaries too participated in the same. The attempt has started at 08:30 am on March 4, 2009 and successfully completed 51 hours.
Unfortunately, I couldn't talk to them, as they were busy with their attempt. But her mother was kind enough to share the history of Ishita's achievements. She says "Ishita had this flair for hair cutting after that workshop.One day, she asked us that she wants to perform hair butting by folding her eyes blind with a cloth. Well, this was something weird and surprising for us, so we denied her request. Then one day, she presented a girl whose hair she recently cut and asked us how it was. It looked good, so we said, great!
And then she unfolded the truth that she had folded her eyes blind and then she performed hair cut on this girl. We were shocked and amazed too. She had performed just the perfect hair cutting that we can do with our eyes open."
Master Pankaj is Guru for Ishita Kakkad. And with the help of Master Pankaj's team, they successfully completed 51 hours of marathon hair cutting, where total 840 people participated. You can see in the below image, Master Pankaj extremely busy with their record attempt. Their efforts are truly remarkable as for continuours 51 hours, cutting hair is not a cup of tea for everyone.
Ishita Kakkad's story tells us that, we can do whatever we want to if we have enough stock of desires, willingness and risk taking ability. She has truly made her parents proud. Hats off to her achievement, and best wishes for her ongoing record.
Below are some of the images taken during this record attempt.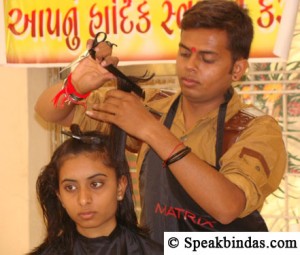 Ishita's mother says that this event wouldn't be this easy without the support of Rajkot Municipal Corporation as they provided the space facility in Indoor Stadium for free.  She also adds thanks to BIG FM, which broadcasted this event and helped spread a word about the team's talent.