December 31st 2014 – January 1st 2015 – Cleveland, OH:
The books don't cut it. This NYE was a passage from the Bible itself.
Just when he thought it couldn't get any better, 19 degree weather and whipping winds at an outdoor concert.
At approximately 11:20pm, MGKs power goes out at his show – lights, sound, everything.. And a little tent directly across the street starts booming, bass and speakers pointed directly at MGK, the sound filling the streets of Cleveland on St. Claire Avenue with raging and dancing pedestrians. Over 10,000 people in MGKs crowd, paying customers, turn to the raging tent with mouths dropped down to the floor where they are frozen staring across the street at a tent labeled "DJ DOLLZ & Cupid Green." They stood stunned and confused as the concert they paid for was out and the little tent across the street was ON.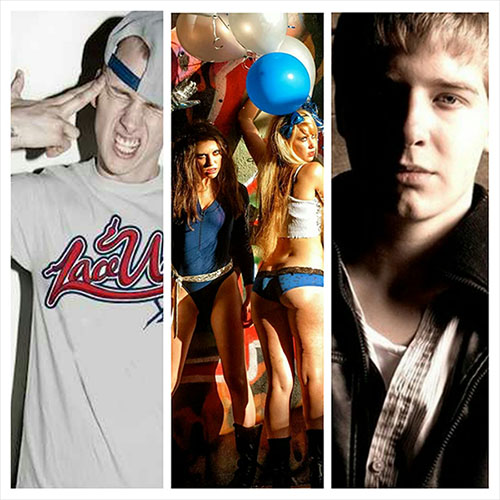 What happened??
At 11pm on New Years' Eve, the singing, rapping, dancing DJ DOLLZ from Manchester and Cupid Green, a singer and rapper from Cleveland, rolled 3 cars deep full of equipment and their crew of ten friends to crash the MGK concert across the street. How the power on MGKs show was shut off is unknown, yet rumors point to the DJ DOLLZ and Cupid Green for pulling the plug. They have called it "some help from above."
A law recently passed in Cleveland stating that artists can, and are encouraged to perform downtown Cleveland. However, the cops that shut down the DJ DOLLZ and Cupid Green stated "you can play, but you cannot throw a CONCERT across from this concert!" The cops showed up due to a "noise complaint."
When DJ DOLLZ and Cupid Green opened with "Call me Steve" by MGK himself, calling him out, the rapper took it as a slap in the face and called the cops himself, vetoing his supposed "don't like the cops" attitude.
The display across the street, powered by a generator, had the audience raging with glowsticks and going wild, all set up within 45 minutes in the freezing cold, the tent staked down by glowsticks to prevent it from flying away, a generator to power the entire epic display.
Fireworks then blasted over the tent to close off the night, as the DJ DOLLZ and Cupid Green packed up their loads of equipment to avoid getting arrested.
Now THAT is a New Years' Eve to be remembered. 
**Video Footage posted by DJ DOLLZ on their youtube – while the MGK concert was in full action with lights, then when it turned to dark for MGK and to light for DJ DOLLZ & Cupid Green.
DJ DOLLZ and Cupid Green crash MGK and EV NYE show
DJ DOLLZ and Cupid Green crash MGK NYE Cleveland
DAYS AFTER RELEASED 2015 SKITTLES SUPERBOWL COMMERCIAL feat. music by DJ DOLLZ & DANNY MCCARTHY BELOW!
Skittles Super Bowl Tailgate with Kurt Warner

Contact:
Home Music Bookings SHOP DJ DOLLZ G.I.D.J. COMING 2014 DJ DOLLZ DJ Dollz
View on www.djdollz.com
https://soundcloud.com/djdollz
https://soundcloud.com/cupidgreen
DJ DOLLZ
Danny McCarthy
Cupid Green