I was invited to deliver a visiting lecture on the subject "Importance of Blogging for Social Work" at Department of Social Work, Saurashtra University, Rajkot on July 27, 2011.
It was organized as a part of orientation for the new batch of students of Masters of Social Work(M.S.W.).
As you know that blogging is a very wide field. There are numerous things you can talk about it, if you have the practical experience of it. I have been into blogging field since 2008. Even before I became active in blogging I used to run a forum which had members from around the world.
As I was invited by this department, I thought of giving information useful for them instead of general blogging stuff. So, I created few points which were meant for particular use of social field. In addition to that, I also prepared few slides which gave very basic information about blogging, such as 'what is a blog?', 'what is blogging?', 'primary types of blogs', 'how to create a blog for free?' etc.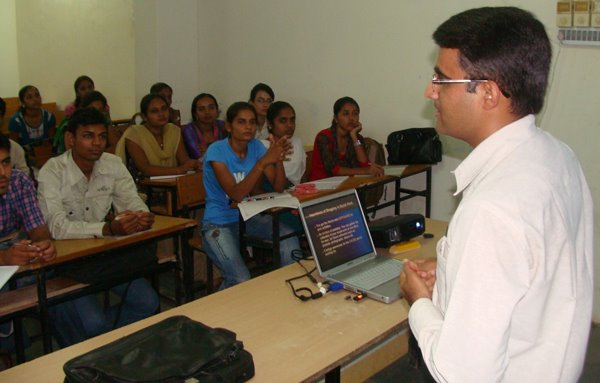 Yes, there yet many things can be added to this but looking at the duration, i.e. 1 hour for the lecture and the students who were very new to blogging, I thought to provide them with something real and practical which they can use in a practical way, if they are really interested in the field of blogging.
There was strength of around 30-40 students in the class (didn't make the exact count :D). Majority of boys and around ten girls. There were few students who seemed really interested in what I sharing with them. I sensed it by their attempt of asking questions. Girls seemed more sincere & attentive.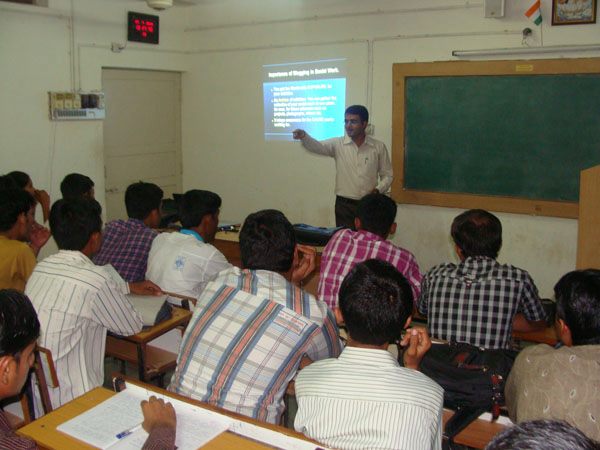 Few points that I shared with them about the importance of blogging for social work are:
You get the World-wide EXPOSURE for your activities.
An Archive of activities: You can gather the collection of your social-work at one place, for ever, for future reference such as projects, photographs, videos etc.
It brings awareness for the CAUSE you're working for.
You can invite like-minded people from the world-over to work with your NGO / cause.
You can generate FUND through Blogging.
Through COMMENTS you can fill the gap that is required to strengthen your project.
Both INDIVIDUAL social activist and NGO can have a Blog.
Students can have a Group-Blog for their CLASS of DEPARTMENT displaying all the activities, write-up, photographs, competitions, awareness camps, social visits etc. For example, you can have a Group-Blog for your Department which you do maintain during your educational terms.
With the use of add-on Widgets & Plugins you can now do the blogging in your mother tongue, in Gujarati Language.
You may also download supported software to type in Gujarati with Unicode such as from www.Baraha.com and start blogging in Gujarati and many other languages.
You can also EARN MONEY with professional blogging.
During the last ten minutes, I gave them something real for their mind-food and confidence build-up. I showed them the statistics of SpeakBindas.com, I talked about the exposure I received through blogging (appearance in various medias), I talked about the Limca Book of Awards that SpeakBindas has won etc. I did tell them about SpeakBindas for the reason that they should feel that this guy is talking in an exemplifying manner and not in a preaching manner!!!!
Well guys, Blogging is indeed a beautiful thing, provided you're passionate about something.
—–
P.S.: Dr. Pritesh Popat, faculty of this department was very supportive in inviting me & organizing this lecture.