Heart melting video of Pigeon Rescue Mission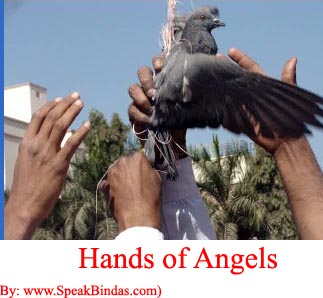 Every year, 14th January is celebrated as 'Uttarayan', i.e. Kite Festival Day in INDIA when in most of the parts of country people do enjoy flying kites from morning to evening. Strings used to fly kites are useful for those who are flying kites but are extremely harmful to the innocent birds flying in the sky and this is a very common thing to understand. Every year, lots of cases of bird injuries and deaths do occur on this day. Most common bird victim are pigeons.
It's not that only on 14th January, such birds get hurt. Even after many days they do fly in the 'danger zone' where used strings are attached with tress, electricity wires and on the roof of buildings.
Such a tragic incident happened on the date of January 27, 2011. Place was 'Kalawad Road' of Rajkot city where a pigeon was hung at the height of 50 feet from ground level. It was totally locked in many strings. It was trying hard to get free but the strings were harder enough to get hold of it. People from around the neighbourhood had gathered there. A vigilant citizen Hiren Kotak had already called up 'Animal Helpline' and it had arrived right on time along with Fire brigade vehicle.
Operation was to rescue it at earliest so that the bird doesn't get hurt further as it was trying to get free and thus hurting itself more and more. But with God's blessings, after few minutes of rescue operation, it was released from the hanging position and then was taken in care of Animal Helpline who gave the First Aid treatment very rapidly. They said that the injury wasn't that serious and the bird would be able to fly in few days of time. Till then, they will keep in their custody and give the necessary treatment.
But even few seconds of severe pain is next to hell where as this bird suffered for few minutes.
Co-incidently I was present there and could record the entire operation. I must say that, it was indeed a heart melting situation looking at an innocent and helpless bird which had got injured at a cost of someone's entertainment.
But the best thing to take back home was that the life of bird was saved.