—-
Our brain has two major functions, 1. to remember things and 2. to forget things. There are many techniques available to remember things, by heart them, but very few are available to forget things. Hypnosis comes into action at this moment. Through Hypnosis, a special command can be given to our sub-conscious mind to forget something in particular, mostly for a specific period of time.
Coming back to above video, SpeakBindas' Author Rupal Tank participated herself to check out how it works. Idea is to make her forget her own name which is 'Rupal.' Hypnotherapist from Rajkot Swami Priyadarshi starts the hypnosis session and takes her into trance.
After few minutes of hypnotic instructions/commands, when he gets to feel that Rupal is under trance, he gives a command to her sub-conscious mind to forget her own name. After passing on this command Rupal is asked "What is your name?". Even after a pause of few seconds she is unable to speak it out. Her vocal code is jammed.
After observing that the prescribed hypnosis experiment is performed successfully, a new command is given to her sub-conscious mind saying her "Now, you will be able to speak your name." And so she does.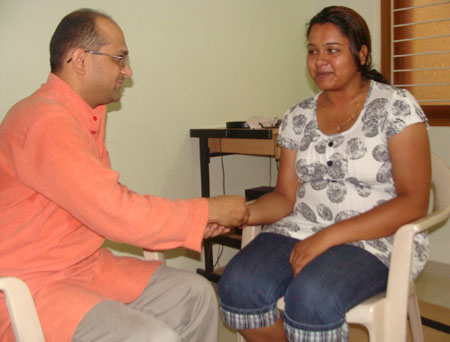 After the session was over, Rupal Tank, Swami Priyadarshi and myself sat together to discuss about what really happened.
Rupal said
"It's not that I forgot my name totally but I just couldn't speak it out. I guess it's because of hypnosis and I'm amazed by its effect." She also added "I could even hear the noise of pressure-cooker coming from neighbourhood."
Swami Priyadarshi mentioned that
"There is a common myth about Hypnosis that during it our senses become weak. No, it's not so rather it's just the opposite of it. You can feel your senses more powerful than ever under hypnotic trance. And hence, you can experience, remember or forget things as per the commands given to you. Hypnosis hence becomes a very handy tool in that case."
I suggest that do watch above video to see the things happening in REAL. It will provide your doubts a great deal of faith.