Sanjay Goradia is one of the leading Gujarati theater artists. His major roles are comic. He has been actively working in the field of theater acting for more than a decade's time. In his journey of working in Gujarat plays, Gujarati dramas, he has worked both as an actor as well as a producer.
Recently, he was in Rajkot with his latest Gujarat Natak "Aa Family Fantastic Chhe", which was organized by the leading Gujarati Magazine Chitralekha. It was the first experiment of this drama which was highly appreciated by Rajkotians and invited dignitaries.
During this event, SpeakBindas had an opportunity to have few words with him on the stage where this drama was going to play after half an hour's time. Sanjay Goradia was very humble and thoughtful throughout the interview. His makeup was eye-catching indeed! He was wearing a kurta which was stained as well as buttons were wrongly placed.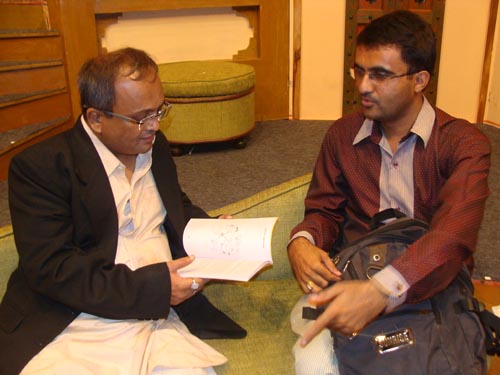 You can watch the interesting interview we had with him at below.
Interview with Sanjay Goradia
Profile of 'Sango Arts' – Sanjay Goradia Production
• with Karo Kanku Na ( 9th Jan 1994)(Producer Actor-79 shows)
• Chakraverty (Producer) 168 shows
• Jama Udhaar (27th Nov.1994)(Producer-Actor) 40 shows
• Ekko Raja Rani (5th November 1995)(Producer-Actor) 89 shows
• Derani Jethani (1996)(Producer-Actor) 218 shows
• Baa Retire Thai Chhe ( Producer)560 shows
• Mr.Adhikari (Producer-Actor) 121 shows, opened on1st Nov.'1998
• Shuken Sava Rupiyo (29th November 1998)(Producer – Directer-Adapter-Actor)
32 shows
• Sharda (Producer)150 shows
• Koi Dil Khele Koi Daav (Producer) 120 Shows
• Maa Retire Hoti Hai (9th April 1999) starring Jaya Bachchan(Producer) 74 shows
• Dr.Mukta (2000)starring Jaya Bachchan (Producer-Actor) 35shows
• Pati-Patni Aur Mein starring Shatrughan Sinha 72 shows (2001)
• Jalsa Karo Jayentilal (11th Jan 2001)(Producer) 238 shows
• Mrs.Manjula Marfatia, B.A. with Gujrati (50 shows)
• Chhanu Ne Chhapnu Kai Thai Nai (148 shows)(28th July 2002)
• Shodh Pratishodh (2002)
• Masala Mami(109 shows)
• Ame Lai Gaya Tame Rahi Gaya opened on 29th Dec.'02(360 shows)
• Chupkay Chupkay starring Zeenat Aman opened in 2003
• Chal Chandu Parni Jayae (2003) (91 Shows)
• Life Partner opened 17th nov.'03 114 shows
• Pallavi Bani Parvati opened on 30th May'04 (34 shows)
• Lali Lila opened on 26th September'04 Tejpal 7.45 (350 shows)
• Parani Ne Pastayaa opened on 25th January'05 (70 shows)
• Chokat Rani Chaar Gulam opened on 7th August'05 at Nehru (15 shows)
• Chhagan Magan Tara Chhapre Lagan opened on 13th Nov.'05 ( Completed 152
shows)
• Ba Ae Mari Boundary (opened on 5th March'06…358 shows)
• Mummy Vees Ni Dikri Chalis Ni (opened on 2nd July'06)
• Jadoo Teri Nazar ( Opened on 30th August'06 ) (150 Shows)
• Pappu Pass Thai Gayo (opened on 27th Oct'06 in Bhaidas & 5th Nov'06 7.45pm
Tejpal)
• Lali Lila in Hindi (opened on 19th Nov'06)
• Chhel Chhabilo Gujrati ( Opened on 4th Feb.'07 at Chavan at 7.45PM ) ( 177
Shows )
• Buddha Ae Mari Sixer ( Opened on 14th & 15th July at Tejpal at 7.45PM )
• Jantar Mantar ( Opened on 23 Nove,ber'07 ) ( 118 Shows )
• Parnela Chho To Himmat rakho ( Opened on 26th-27th Jan'08) ( 52 shows )
• Ek Moorakh Ne Evi Tev ( Opened on 15th March'08 ) ( 137 shows )
• Prem Karta Puncture Padyu ( Opened on 12th July '08 ) ( 156 shows )
• Ba Ne Gher Babo avyo ( Opened on 23rd Nov'08 ) ( 143 shows )
• Jantar Mantar (Hindi) Opened on 25th Dec.'08 in Kolkata
• Chini Mini (Opened on 18th January'09) ( 121 shows )
• Miss Ful Gulabi (Opened on 8th March'09) (29 Shows)
• Paranya Toye Punchhadi Vanki (Opened on 7th June'09)
• Ba Ne Gher Babo avyo ( Opened on 23rd Nov'08 )
• Aa Kokila Nu Kaieeenk Karo (Opened on 27th Oct'09) (110 Shows)
• Bhabhu Retire Thai Chhe (Opened in Chitralekha Comp on 9th Dec'10)
• Harakhpadudi Hansa (Opened on 10th Jan'10)
• Sakhna Re To Sasu Nahin Opened on 7th March'10
• Haath Na Karya Haiye Vagya Opened on 6th May'10
He can be contacted at
Sanjay Goradia Production
B-3 / 701, Sunder Van,
Lokhandwala Road, Andheri (West),
Mumbai – 400 053. India.
Tel No. – + 91-22-2631 0001/ 4040.
E-mail : mail@sangoarts.com