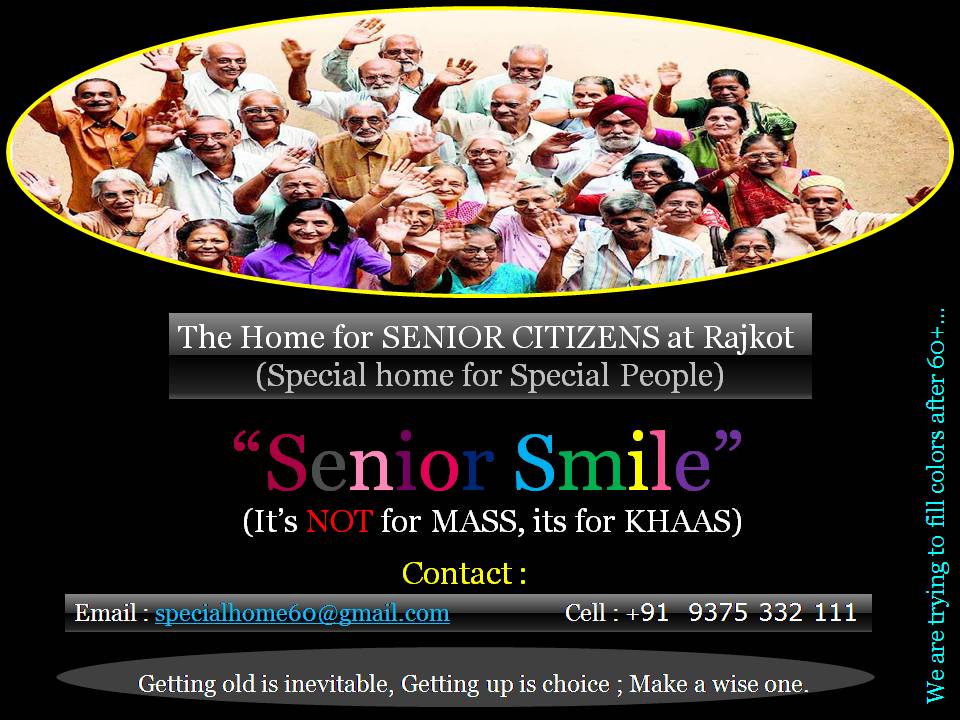 In a way, the above image is self-explanatory. There is a special home for Senior Citizens opening at Rajkot. Mr. Nirmit Chhaya who by profession is an advocate is the key person behind this concept. At present, furniture work is going on. Photographs of the prepared home will be shared as and when it's furnished & functional.
He has sent me following details which do describe the concept in detail. Once the home is setup & running, SpeakBindas would also bring the interview of the creator and those living in this special home.
Is your son staying in abroad?
Is your only daughter married?
Do you stay out side the India and wants to settle back in India?
Are you feeling lonely?
if answer to any of the above is YES,
then you should contact "SENIOR SMILE"
SENIOR SMILE – Senior Citizen Home
-its special home for special people
-its NOT for mass, its for khaas.
– its home where children send their parents HAPPILY, and parents too with come HAPPILY and WILLINGLY.
Senior Smile –
Where,
Clean and pleasant accommodation with individual bed, cupboard and locker facility. Rooms with attached toilet – bath.
Library, TV, Computer and Internet Facilities.
Food according to the instructions of Diet Consultant.
Regular visit of Doctors
Not only that but
Picnic and Hotel visit too.
Additionally,
All kind of transportation nearby
A huge garden, Theaters and Malls nearby
A multispeciality hospital nearby
Safe and secured Morning and Evening walk space.