Green Smokey Eyes makeup
Purple Cat Eyes Makeup
Orange Smokey Eye Shadow Tutorial
Hello Kitty PINK eyeshadow
Eyes Make for Night Out Eye
—
Here's how you can get smokey eyes and wear it everyday!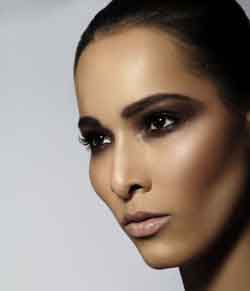 Step 1) Prep your LID – By using a PRIMER this stopped those annoying creases that occur since our eyelids can get pretty oily. Try Urban Decay Potion Primer.
Step 2) Apply Eyeliner – If you're going for a typical black, brown or gray smoky eye, apply liner in one of those colors above the upper lash line. draw a thick line in the middle of your eye. If you wish to try a different color just change the liner
Step 3) SMUDGE – Smudge the color on the bottom and top lash gently so it doesn't look to perfect.
Step 4) Apply light base color – the key to a smoky eye is pairing a lighter base with the darker hue. Try a cream shade for your base. Sweep a light and shimmery shaddow over the lids all the up to your browbone.
Step 5) Blend in darker color, but keep dark color below the crease. Now that you have the base and eyeliner on, it's time to get the smoky effect. You need a darker eyeshadow shade, pick whatever color is appealing to you. Using an eyeshadow brush blend the color from your LASHLINE UPWARDS. Keep blending until the eyeliners line isnt present any longer.
Step 6) Clean Up Time! – using a Q-tip, use makeup remover around the bottom of your eye where the shadow or any imperfections were made/fell.
Step 7) Concealor -Apply Concealor and blend well
Step 8) Mascara – Apply Generously as much coats as you wish of VOLUMIZING mascara