One of the greatest of innovators Steve Jobs once said "Design is not just what it looks like and feels like. Design is how it works." So true ! The word design instantly leads you to the wonderland, to a new world of imagination where colors are falling upon you, where there is no horizon, where everything is new & fresh and where you feel alive ! Isn't the world of designing so fascinating? Colors, shapes, sizes, feel, richness, style – all of these can come to unlimited versions and variety. Be it a logo design or design of entire website, there are numerous possibilities to birth it.
And Trionn is one such design destination, A Design Studio where designing is headed & inspired by a master-designer Sunny Rathod who has 15+ years of experience of playing with colors, shapes, sizes and above all – Creative Imagination ! Be it any form of graphic – logo design, banner design, web interface design, UI, iOs apps design – Trionn has done it all – doing it all. And so it has received numerous reorganizations in form of awards & nominations including AWWWARDS & Logobite, Silver A' Design Award and few others.
Their main area of designing belongs to three primary zones:
Web: UI/UX, Website, HTML5, CSS3, jQuery, Responsive Design
Brand: Logo, Packaging, T-Shirt, Business cards, Brochure
App: Web, IOS, Android applications.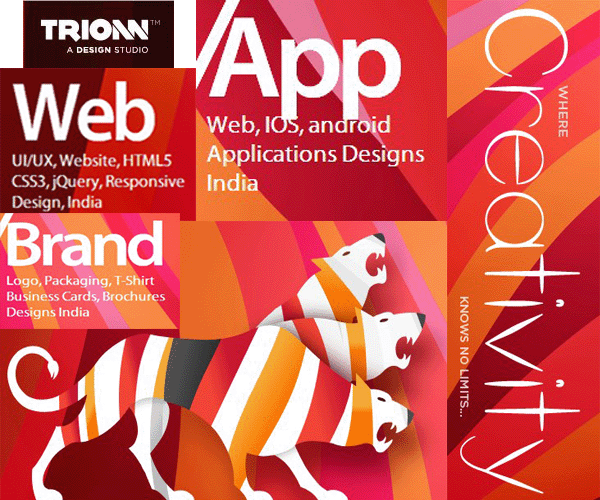 They have helped many start-ups to build their responsive websites to gain the maximum potential from their business. Trionn is also a trusted brand – their long lasting relationships with clients have proven it. Some of their clients are working with them for last many years. This showcases brand image of Trionn. Communication and in-time delivery of the projects is also a norm having been practiced at Trionn, for they understand the importance of time in this fast moving business world. They have done projects with clients  from USA, UK, Canada and European countries.
Trionn is definitely one of the best designing studios, a designing company that I've come across. Just pay a visit to their awesome website. The look, style & technology speak for itself !