Doing business is one thing and doing it with principles is another ! It's a rare combination that we happen to observe in today's world. But there are some dedicated people who strive to do the business by following ethical standards. VegetarianShop.in is one such example.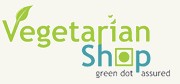 It's an online and offline store providing an array of vegetarian and cruelty-free products ranging in categories of Bath & Spa, Health & Beauty, Oral Care, Home Décor, Hygiene Care, Fashion Accessories, Stationery, Gift Items, Footwear and Nutrition & Healthcare. Although, it is considered to be hard to practice total vegetarian lifestyle, VegetarianShop.in has decided to boost the very tough thing. You may wonder that how do they sponsor such a thought in business? They have set norms such as they sell products of only those companies that do not test on animals for the production of items. They make sure that the product is 100% vegetarian and cruelty free with an additional norm of not selling products from companies which manufacture under oppressive labor conditions. This is what makes them unique and appreciable.
Te are promoting compassionate lifestyle with a vision to make the world a better place to live. The message they want to spread is that Cruelty Free products doesn't mean they cost a bomb – this is a myth in the society. They are having a wide range of products in all the categories with different price range e.g. Bathing soaps starts from Rs. 10 to Rs. 150+. So it is just to switch to a cruelty free brand without hampering your budget.
They have a range of products pertaining to categories mentioned above. Here is their Products Catalog. But to name a few of them are toothpaste, room freshener, Candles, Bags, Jewellery, Belt & Wallets, Greeting cards, Photo Frames, Weightloss Soup, Soaps, Shampoo, Conditioner etc.  Their specific product page describes the product very much in detail covering aspects like image of product, net content, brand, product features and product details such as ingredients, benefits, dosage and usage etc. This makes the shopper quite aware about what he/she's buying is made of.
If you re-read the first line of this article, you would realize that VegetarianShop.in is not just another online retail store but a platform which caters the vegetarian shopping experience as well. At present, they do ship orders within India with a 'free shipping' scheme for order over Rs. 250/-.
They can be reached at:
E-mail: info@vegitarianshop.in
Mail: Vegetarian Shop Pvt. Ltd., C/5, Ground Floor, Monani Sadan (Bhujbal Niwas), J. N. Road, Mulund West, Mumbai – 400080, Maharashtra, India.
Phone: +91 22 25 600 400