My friend Sunny Rathod is a disciple of Prembharthi Bapu of Ghantvad. Unfortunately, bapu left the earth before a year. I have never met him personally. But once had the opportunity to talk to him on phone. It had happened as a surprise. I had called up Ishwarbharthi Bapu who is a sanyasi disciple of Prembharthi bapu. His phone was with Prembharthi bapu. He picked up. We talked for a while. He invited me to come to Ghantvad. But I couldn't go in-time, and he left earth.
Watch Video here below
Infact, the story becomes interesting. Me and Sunny were classmates in the year 1998-99 in Lal Bahadur Shastri school, Rajkot. But then, after highschool years, we never met until the year 2012. I had no idea that he is Prembharthi bapu's disciple. Once, when I had visited Ishwarbharti Bapu's ashram which is in Sasan Gir, I had forgot my camera's tripod there. Bapu gave it to a family who was visiting Ashram from Rajkot. Then I went to that family's home to collect my tripod. It was Sunny's parents! Still I had no idea about it until we did reunion of our 9th class. When I had visited, even Sunny was not at home.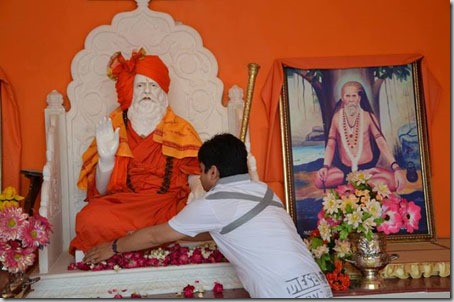 So, after 13 years we met. And then we discussed about this incident. Sunny visits Ghantvad ashram once a month or so. This is the second time I went with him. First time was during the season of summer. This time, it was at the start of monsoon season. The ashram is located few kilometres away from Kodinar. There is a fine river floating by. Few crocodiles can be found in this river. Also a Shiv Temple is there at banks of the river where if you sit for few minutes, you can feel the cool wind flowing by.
At present, Ishwarbharthi Bapu looks after ashram. There are cows, bullocks, buffalos too in ashram. This  time there were two horses too and around eight dogs – Great Dane, Labrador etc. As the ashram area falls near jungle of Gir, sometimes leopards or lions do come near ashram for hunting purpose. These dogs are so brave that they literary run after them. I know it for there were two brave Doberman dogs at Sasan Gir's ashram which I had seen myself. They both were killed by leopard.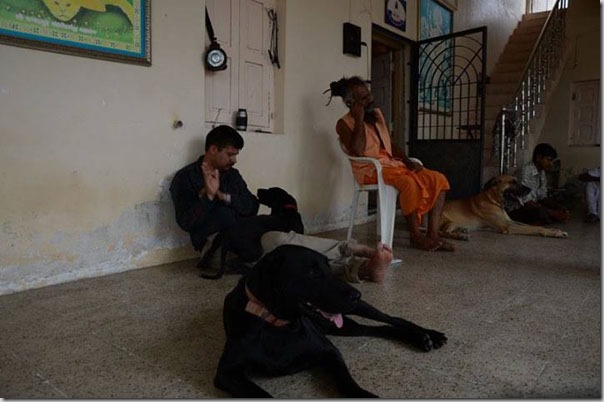 Naimish Madiya, our another classmate was also with us on this trip. For us it was a trip. For Sunny, it was getting blessings of his Guru Prembharthi Bapu's samadhi.
In above video, you can have a virtual tour to ashram, see dogs, horses & other domestic animals, us having prasad-lunch at ashram.
During one Mahashivratri, I had visited Junagadh when I had interviewed Indrabharthi Bapu, who is the chief disciple of Prembharthi bapu.
Namo Narayan.