Video of Visit to Samruddhi Farm. Click to play.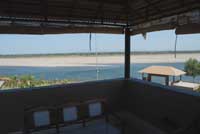 Samruddhi Farm is situated on the banks of river Narmada near Deroli village, 50 kilometres away from Vadodara. This farm is developed in a vintage fashion but furnished with all the latest facilities. This concept is developed by Chirayu Patel who is an Architectural Consultant. Akshaybhai Shah is the owner of this farm, where as Bankim Mehta is co-ordinator, Deval Shah is the site-supervisor and Hemant Mistry is carpenter.
Entrance of this farm makes a visitor feel that they are visiting an ancient village of India, as the gate of this farm is indeed made in such a fashion where you feel the antique atmosphere of old times. This farm has all the features that one feels to have in their dream home such as Garden, old times sitting arrangement, Rural art, handicraft items, heart touching plants in the garden full of flowers, dishes of brass, historical items, games section, small theatre, kitchen of rural look facilitated with modern instruments and many such outstanding decorates.
In this visit, you will get to see all these and many others parts of this beautiful farm. The feeling of seeing river Narmada flowing right next to this farm is enchanting.
For more details, you may contact:
Akshaybhai Shah: +91 98989 06120
Bankimbhai Mehta: +91 98250 49994