No matter how much do we fight with our elder brothers for the whole year but when Raksha Bandhan is around the corner, love wins over the sibling rivalry. Isn't it?
Rakhi is that time of the year when we cherish and love every sweet and bitter moment with our brothers. We laugh at how once, big bro almost gave a chokeslam in a fun WWE fight. How we didn't talk for days after a fight. But then, we also cherish how many times our big brother has protected us from every odds in our lives. This Raksha Bandhan, express your love to your big brother who has always got your back with the following trending Rakhis:
Sandalwood Rakhi: Rakhi is around the corner and the rakhi fever has already taken over the market but you are still looking for a perfect Rakhi for your elder brother. Right? Well, bother not, because you can choose a traditional yet be trending sandalwood Rakhi for your elder brother to make the festival more special. If your brother is allergic to the material of artificial designer rakhis then, sandalwood Rakhi is an apt choice. A sandalwood Rakhi holds a religious importance for its aroma and medicinal properties. Likewise, nothing is more pious than a sandalwood rakhi.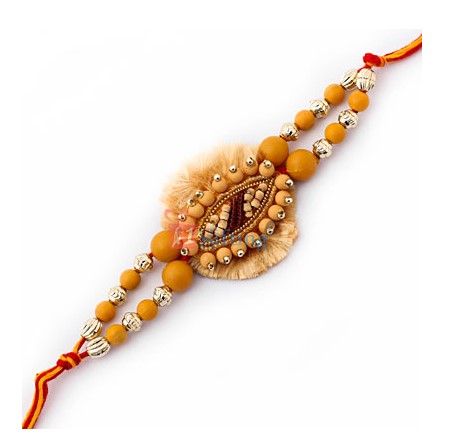 Kundan Rakhi: A Kundan Rakhi looks incredible and gives a shining look. Kundan rakhis are available in a variety of colors and are perfect to tie on a big brother's wrist during the auspicious occasion of Rakhi. So, if your brother is someone who loves gems and stones then he will also love a Kundan Rakhi. Needless to say, a Kundan Rakhi will give a royal look and bring a smile on his face. If your elder brother lives in a different city and you are bored of sending same rakhis every year then send a Kundan Rakhi for your brother this time. Kundan Rakhis come in various colors and designs which will definitely illuminate the relationship between you and your elder brother.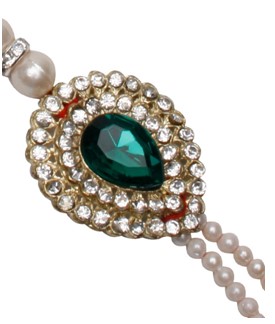 Mauli Rakhi: A Mauli Rakhi is basically a 'kalava' and is the most propitious thread tied on the wrist for our protection. A Mauli Rakhi is a synonym to good luck and health.
A Mauli Rakhi is simple in look and can be red, yellow or maroon in color. Sometimes, these simple threads can be decorated with zari, beads, and sequins to make these look fancy. These rakhis are traditional, auspicious and comfortable to wear. If you are tying a mauli rakhi on the wrist of your brother, then you are inviting peace and calmness to his life. So, this simple thread is symbolic of a sister's love and prayers for her brother's happiness.
Floral Rakhi: A floral Rakhi is evergreen and can add so much of gaiety and light to a festival like a rakhi. A floral Rakhi signifies love and affection of sisters towards brothers and thus, a floral thread has the power to fill a brother's heart with joy. A floral Rakhi can say a lot of things to your elder brother on behalf of you as nothing is more expressional than flowers.
So, now this is the time to express your affection to beloved elder brother with such exceptional rakhis. Go, look for a perfect Rakhi for your doting big brother because the countdown for Rakhi starts now.