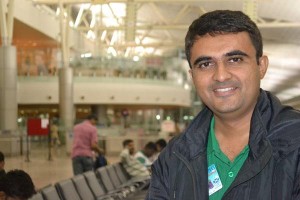 This is the very first photo that was taken for our Group Study Exchange(GSE) Program to Scotland (September 8 to October 9, 2012). Look at the broad smile! Of course, it had its own reasons. It was my wildest dream to visit a developed country, and through GSE it happened in real. The photo was taken at the Ahmedabad(INDIA) airport.
And this is the last photo of the trip. Actually, this is a post-GSE photo which was taken after eight days of GSE, as I had been to London for seven days as a pleasure trip. If you compare this photo with the above one, you can surely find the difference in lack of face value 🙂 It's always hard to leave something you enjoyed a lot.
A lot happened in between these two photos. Time I cherished was probably the best time of my life, in terms of being selected for GSE, having a good team together, being taken care well by the Rotarians from Rotary District 1230, spending good times with host families, giving presentations, being praised for our blazer almost at every club meeting, enjoying the social & cultural visits, learnings from the vocational visits, affections to places visited, mood swings, totally different kind of food & weather from what we have back in INDIA and what not! I am not making a list, but if I do, it would go on and on.
Life always gives a second chance, and I do believe it now.