This is a novel written by one of my hosts at Scotland. I stayed with Ernie Hasler at his place for three days at Bishopton. He gifted me his book. Here is the interesting information about the book. Those who like chase & crime sort of novels, this one is for them.
To Buy the book Click here.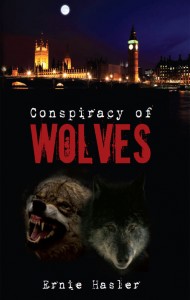 Conspiracy of Wolves
The police were after him as a murderer because of the disappearance of his wife.
MI5 were after him because they thought he had a list of the three hundred secret rulers of the world and knowledge of the murder of the man who gave him the list.
The Boss and his east end London gangsters could be after him in case he knew too much about the murders that they had committed.
Conspiracy of Wolves is a thrilling story of intrigue and survival, tracing an intricate path through the dark underbelly and secret antechambers of contemporary Britain. As Douglas Hamilton finds himself inextricably linked to a series of mysterious crimes and nefarious characters, he has no alternative but to rely on his wits and savvy instinct as he seeks to reclaim his life and assert the moral integrity instilled in him as a young man.
Born the son of a coal miner and a school teacher in West Lothian, Scotland, Douglas' life has been marked by a native resilience and ability to overcome whatever obstacles fate throws in his path. Lovingly told with an impeccable sense of detail and local color, Douglas' childhood story follows his exploits in school, on the rugby grounds, in the Boy Scouts, and ultimately in love, with the introduction of the irrepressible and spirited Kelly. Sharing many of the same interests and values, their romance blossoms as a fairy-tale of fidelity and mutual support, as they embark on parallel courses of legal study at Glasgow University, while fighting for social justice and world peace.
But ulterior forces soon come into play, and when a fiercely proud Scot, Ian Campbell, recruits Douglas to play the bagpipes as part of a function at London's Freemasons Hall, Douglas inadvertently comes into possession of a secret list of a committee of three hundred people who rule the world by virtue of a conspiratorial pact dating back to the 18th Century.
When the newspapers report a man's body turning up in the River Thames, Douglas recognizes the deceased both as someone he saw being ejected from the Freemasons Hall and as one of the names on the secret list. Kelly in the meantime suffers a misadventure while protesting global arms proliferation at the Faslane Peace Camp adjacent to the nuclear submarine facility at HM Naval Base Clyde, and disappears without a trace.
This remarkable tale pits Douglas against overwhelming odds and thrusts him before incredible perils, as he becomes a man-on-the-run, attempting to navigate overlapping networks of the criminal underworld, the British security and intelligence sector, and secret societies bent on global domination. Will Douglas be able to elude his pursuers? Will Douglas be able to learn what really happened to Kelly? Will his itinerant life under an assumed identity in a shadowy world of aliases and code words permit him to discover the truth, or will he succumb to paranoia and risk losing hold of his moral compass?
Prepare yourself for fast-paced adventure, captivating characters, exacting detail and riveting storytelling. Conspiracy of Wolves will transport you on an amazing journey on a series of pathways and channels through the skillfully masked, ominous menaces that inhabit our modern-day world.
About Author
Ernie Hasler recently retired at age sixty-seven as a health and safety advisor. His professional interest in this area is also reflected in a lifetime's work in trade unions, having started his first year apprenticeship at the age of sixteen at the Ministry of Defence's Royal Ordnance in Bishopton. Working at the royal ordinance factory over the course of years, he witnessed first-hand terrible occurrences like an explosion in June 1960 that claimed the lives of eight good workers, as well as successes including the introduction in 1974 of The Health and Safety at Work Act.
He is a tireless vocal advocate for awareness of the continuing global threat of climate change, reduced access to water, the loss and destruction of trees, nuclear arms development and deployment, however, he puts his beliefs into action as a trustee of Emmaus Glasgow a working community of previously homeless people running their own business and recovering their lives.
He believes workplace health and safety and civil responsibilities, including equal opportunities are directly tied to the Old Testament of the Bible and still apply today. He further believes that international law clearly classifies nuclear weapons as illegal as a means of indiscriminate mass destruction, yet the major developed nations continue to deploy them despite their treaties.