Bittu Gandhi is from Rajkot (Gujarat – India), 21 years old, studying 2nd year B.com.
It was indeed nice meeting him, talking about his talent that registered his name in Limca Book of Records, while taking sips of tea that his mother prepared for us.
His talent or rather natural ability is that he can twist his legs at almost 180 degrees and walk backwards 2850 steps in the same manner. His mother says "He started walking reverse when he was 14 years old".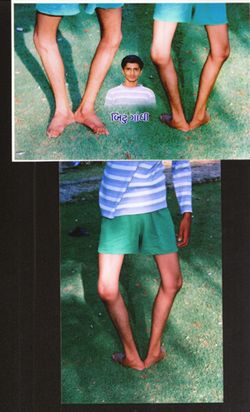 Which says he has been performing this extraordinary art since last 7 years.
Generally, twisting ankles to such degree is considered to be dangerous. For a common human, this is next to impossible but Bittu does it so normally that when I saw him twisting his heels at almost 180 degrees I felt it was a simple task.  It wasn't a simple task at all, but he made it look simple.
Bittu Gandhi has been interviewed by many local Gujarati newspapers, with a detailed article and photograph. Few local and national news-channels interviewed him as well.
He showed me a big file containing all the cutting from news media where his article was published. "It feels so good having seen my name and appreciation for my natural gift by media friends", he says with reflecting happiness in his eyes.
I had a good time meeting him at his home, where I received nice welcome. We had a long chit chat, which goes as below.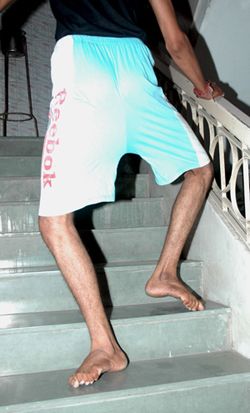 Speakbindas: Bittu, does it pain you while you twist your heels?
Bittu: Not really. Though, it's not like normal walking. But it doesn't pain me.
Speakbindas: What do you expect when you display your ability to people?
Bittu: Just pure appreciation. I know mine is a natural ability and not a developed one. So what I need is true appreciation from people.

Speakbindas: How was the feeling having a 'National Record' for your ability to be authenticated by Limca Book of Records?
Bittu: Great indeed. Having my talent recorded in Limca Book of records, gives me an authentic proof of my ability. I feel extremely good. A feeling of somethnig different comes to my mind when I think of Limca records.
Speakbindas: What is your future plan? How you are planning to project your ability?
Bittu: I want to study M.B.A. About projectnig my ability, I will be displaying it to more and more people.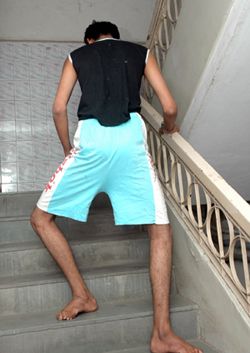 Speakbindas: Your message to readers.

Bittu: Thanks for reading my article (laughs). I would like to know from readers that what they feel about my such natural skill, and what are their reactions after knowing about me here.
Speakbindas: Thank you Bittu for sharing your such great talent with us.
Bittu: My pleasure, Sir.