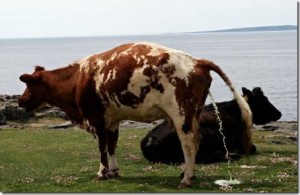 No no, don't put your palm on your nose!
Cow is considered as the most sacred animal in India. And not just an animal, she is given the title of 'mother' and is worshiped too.
Hindu mythology says that 33 crores (33,00,00000) Gods and Goddesses reside in the body of a cow. And hence worshiping her is a holy act.
Cow urine is also used to provide holiness to a place by spreading it all over. On some Hindu religious acts, cow urine is used for some religious procedures too.
This is known to every Indian. But there is something new about cow urine which is to happen shortly in Indian market. Yes, a new soft drink made from cow's urine is to be launched in this summer by a hard line Hindu outfit. This hard line Hindu outfit is known for its opposition to corrupting Western food imports.
I have heard that in Charak Samhita, benefits and medicinal properties of cow urine are written. It can be used to cure many diseases. Presently, this soft drink is undergoing laboratory tests, which is projected to be maximum 2 to 3 months. Launching date is yet to be released though.
Ramanuj Mishra who is In charge for research and development of the cow urine soft drink said that this soft drink has been made from cow urine and each bottle will contains around 5 to 6 milliliters of cow urine. They have also used other useful herbs too and this soft drink not only has cooling properties but also will cure various diseases.
The one bottle of soft drink made of cow urine will also contain products such as aloe vera and gooseberry for the specific purpose of fighting against diseases such as diabetes and cancer. Well, the name of this soft drink and its price is yet to be set. It is said that this soft drink will be available nationwide and is set to competed with popular soft drinks such as Pepsi and Coke.
Mr. Virendra Kumar Jain (Cow Urine Therapist) has found that Cow urine has natural disinfectant and antiseptic qualities. This is unique, as urine from any other species of life is considered impure.
The consumption of cow urine as a medicine is one tradition which has been lost and which is so simple and effective and this man has revived the tradition with his hard core dedication and devotion to bring relief to humanity through natural process.
Government of India, the patent office awarded Mr. Virendra Kumar Jain a patent (Patent No.189078) for his discovery and innovation of cow urine therapy & therapeutic Ayurvedic composition.
The patent is awarded for various therapeutic ayurvedic composition and prescribed therapy by Mr. Virendra Kumar Jain for Cancer, AIDS, Asthma, Diabetes, Psoriasis, Eczema, Heart Diseases, Hypertension, Piles, Prostate, Liver, Kidney, Female Diseases, Hepatitis, Acidity, Fits, Ulcer, Spleen, Ear, Sexual Disorders, Nose, Eye, Cough & Cold, Migraine, Headache, Gout, Spondylitis, Sciatica and other diseases.
Accord to Dr. Jain's website (http://www.cowurine.com) various diseases such as Skin Diseases, Cancer, Heart Diseases, Musculoskeletal Disorders, Male Sexual Disorders, Aids, Hypertension, Diabetes Mellitus, Blood Disorders, Respiratory Disorders, Gastrointestinal Disorders, Endocrine Disorders, ENT Disorders, Gynecological Disorders, Ophthalmic Disorders, Psychiatric Disorders, Urological Disorders, Cold & Cough, Heart Problem, Blood Pressure, Asthma, Sugar Problem,
Kidney Shrinkage, Liver Problem, Skin Disease, Cancer, Stomach Problem, Poor Sight, Gynic Problem, Woman's Problem, Chest Pain can be cured.
Below are couple of videos on Cow Urine therapy developed by Dr. Jain.
Cow Urine Therapy Video – Part 1
Cow Urine Therapy Video – Part 2
You can watch more videos by Dr. Jain on Cow Urine Therapy on his Youtube Channel at: http://www.youtube.com/cowurinetherapy