Sirf Naam Hi Kafi Hai is a popular dialogue in Hindi cinema which expresses the attitude of the name itself is enough ! Such is the case when I heard desiclik.com for the first time. It rang the bell in my ears with the meaning that some e-commerce platform to do something with Indian brands. And so true it turned out when I visited the site.
desiclick.com is an Indian marketplace made for consumers & sellers living in USA. In India, we can find variety of desi, meaning local products from numerous online stores. But what about buying Indian products in USA at the local shipping expenses? This is when desiclik.com comes into place.
It showcases products from sellers who are based in USA and trade or manufacture Indian products. Additionally, it also helps people who sell Indian merchandise from home to go online. Website covers number of products belonging to a range of categories such as Clothing, Accessories, Jewelry, Home & Garden, Indian Grocery, Music & Movies, Books/Magazines, Puja & Festivals, Toys & Games and Shoes/Sandals.
Popular stores like Abu Jewelry (NY, US), Bengali Sweet House (NJ, US), desiVastra.com (NY, US), Dilli Haart (MN, US), Indianblend (NY, US), Khel Time (NY, US), Om Sutra (NY, US) are listed with desiclik.com.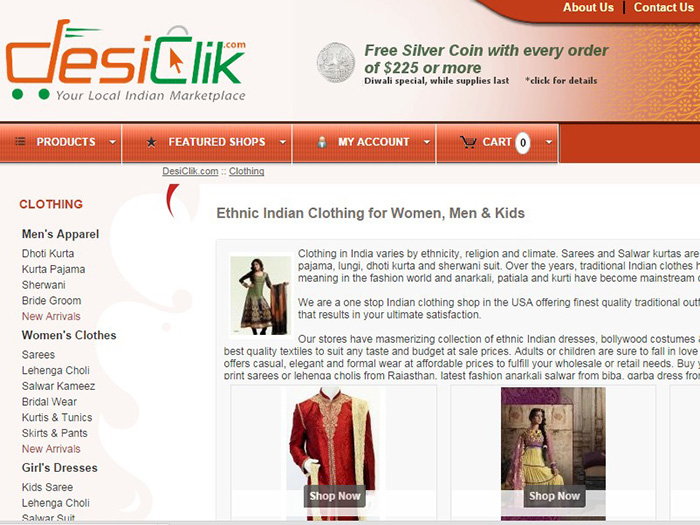 Keeping the upcoming festival of Diwali, they are giving Silver Coin for free with every order of $225 or more. Some of the products listed on site have exclusive discounts available as well as some products come with free shipping.
The site has display of hundreds of Indian ethnic items for you to choose from giving you the real Indian experience.