We are living in a technology arena where most of our work is dependent on it. Be it communication, manufacturing, sales or service sector. But finding different kinds of IT products at one place is something unique. LappyKart.com is one such e-commerce websites which offers various IT products such as Laptops, Computer Accessories, Mobiles & Tables, Mobile Accessories, Adapters & Batteries all under one roof. And hence, it is so rightly have the tagline of IT Megastore !
One of the key features of LappyKart is its largest selection of adapters and batteries. Be it any popular company such as Dell, Toshiba, Sony, Acer, Lenovo, Samsung, Asus, Apple, HCL, IBM you will find the its adapters & batteries. In today's fake world, it is hard to find a place to buy the original adapters & batteries. LappyKart.com is a trusted platform where consumers can expect genuine ones.
They sell Laptops of brands like Dell, LENOVO, ACER, ASUS, SONY, TOSHIBA, SAMSUNG and Apple. Every product comes up with a photo-gallery and very much detailed description which covers all technical features of the products which makes it easy for the consumer to decide about which one meets the best to his/he requirement.
In their category of Mobile Accessories all essentials one are available such as Cases & Covers, Headphones, Power Banks, Mobile Batteries, Data Cable, Memory Cards, Bluetooth Headset, Screen Protector and Chargers.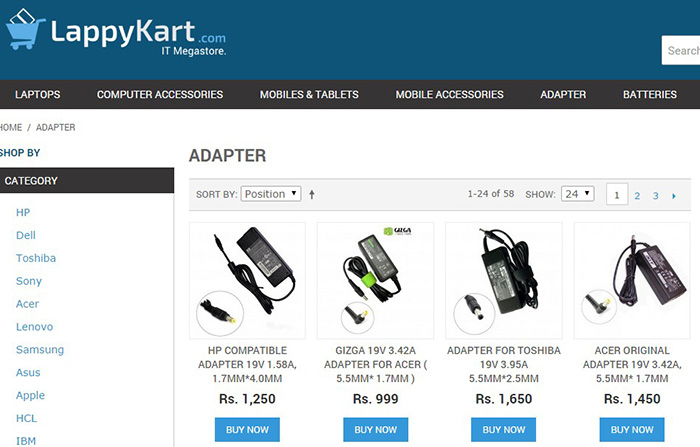 One of the most intriguing facility provided by LappyKart.com is FREE & SAFE shipping no matter which part of India the consumers asks for the delivery. They operate with leading shipping partners such as Dtdc, Bluedart and Fedex.
It indeed is an IT Megastore. Visit it to buy the genuine IT products. It's just a click away.