Pragatya Technologies started with a vision to provide solutions to our clients at affordable prices. Our services like Website to App conversion, Premium Domain Names and Foreign Spokesperson Testimonials for your Business, Products, Services and Events. Company's registered office is in Rajkot, Gujarat, India with its associates in different parts of India and world to help the clients more effectively.
To promote your business, products, services or events, they help you in creating video testimonials for the same by foreign spokespersons. Check out their packages below.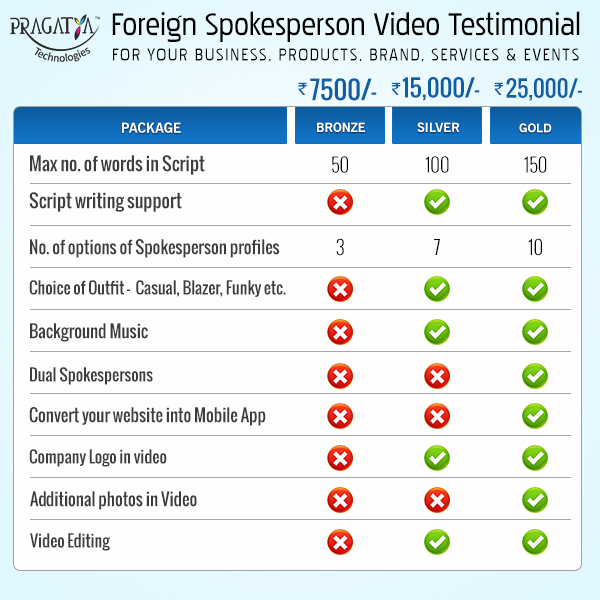 Samples:
In this exclusive Digital Production service, we offer highly professional spokesperson/s from Western countries who would talk about your Business, Products, Services and Events as per the script given by you.
Hiring a foreign Spokesperson for Video Testimonials for your Business makes an outstanding impact into the minds of your clients.
In either case, it is a medium to impress people.
We don't charge unbelievable amount for the same.
Take a look at our cost-effective charges for this service.
You're one step from giving your business a GLOBAL touch!
Contact Today:
Pragatya Technologies
The Imperial Heights, B-304
150 Feet Ring Road,
Rajkot-360005. Gujarat, India.
t: +91 281 2576002/3/4
e: pragatyatechnologies@gmail.com
w: http://www.pragatyatechnologies.com