In today's photo crazy world, most of us are hooked on to different styles of editing. It has become essential to edit photos and make them look like you want them to. There are a number of applications and different software that provide with different levels of editing. It can be often misleading from the big talks about what the editing software can do and what it actually does. However, Movavi Photo Editor helps you do all that it boasts. Removing unwanted fragments, getting rid of power lines, shadows, and even random people in the picture is now possible. There is nothing that will spoil your picture and come in your way of ideal picture. It is one of the easiest photo-editing applications that will give you very much professional looking images that other complex software would have.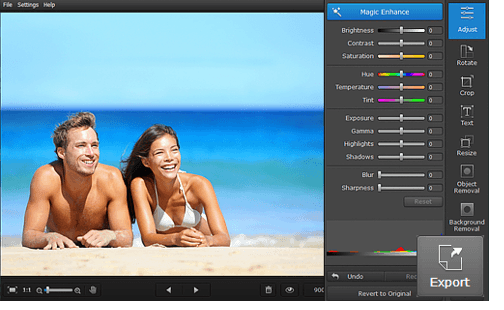 There are certain basic options and editing tools that all editing software must have and which you need to edit your images. Movavi photo editor is a very smart and well-designed editor that not only has smart object removal but also many more interesting tools. There are options of enhancing the image quality automatically. You may fix the brightness, contrast, white balance and other levels of a image to get the perfect tint and saturation. Cropping, flipping, and rotating images is also very easy and will ensure that you get to see the image in the best frame and composition and save it in the same. We all love sharing photos online but often face the problem of large file sizes. But you no more have to worry about it. You can now save your images in compressed file size that can be shared online and will not even take up much space on your hard disk drive.
Do not get much excited there is still a lot more that you can do with Movavi. It lets you replace backgrounds as well. You can clip images from their background and then replace it on a background of your choice. You just have to roughly mark the desired portion and the software is so designed that it can automatically recognize the outlines. You can also add text, caption and other things that you think will make it look better and more creative. You can even add watermarks to give it a more personal look. So, download Movavi and check out all that you can do.