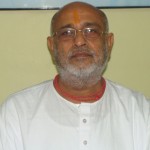 (Hasu Bapu)
This Janmashtami, I spent at Prernadham with my entire family. Prernadham is an Ashram situated in the beautiful and natural laps of mountain Girnar, Junagadh. It is surrounded by the mountain range of Girnar. Atmosphere at Ashram feels so natural and spiritual. Prernadham Ashram was established by Param Pujya Shri Lal Bapa in the year 1984. At present, the same is managed by Pujya Shri Hasu Bapu.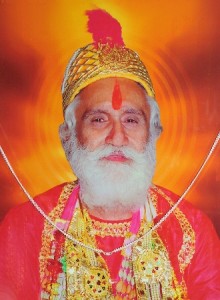 (Pujya Shri Lal Bapa)
Shri Guruvar Lalbapa was born in 1924 CE as son of Shri Jagjeevandas Karia in village of Babra near Amreli, Saurashtra. Life of Shri Lalbapa was inspired by two principles : Ramroti and Service to welfare of Cows. During the festivities of Shivaratri, for 5 days a major setup is established for food for lakhs of pilgrims during this days and a blissful atmosphere is generated in which hymns and stotras are sung throughout day and night.

(Hasu Bapu)
Shri Hasubapu was born in Badela in 1960 CE as son of Shri Kalidas Jagjeevan Karia. Currently, he is handling all management activities of Prernadham Ashram situated in the Bhavnath Valley of Girnar, Junagarh. Shri Hasubapu too is following his Guru Shri Lalbapa's principles of Ramroti and Service to welfare of Cows.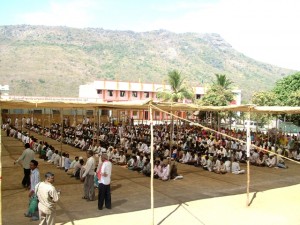 (Visitors having Prasad at Prernadham)
Accommodation facilities are really good. Across the whole year lakhs of pilgrims visit the pious Girnar Mountain that has various shrines of different sects. People visit Ambaji (5000 steps), Guru Dattatryea (10000 steps).
A well to do decent accommodation is available in the Ashram Premises. Any one/group can avail these facilities by communicating in advance to ashram office about date/time and number of people visiting. Ashram even accepts donation for constructing Atithi Gruh on the name of their  parents/ancestors.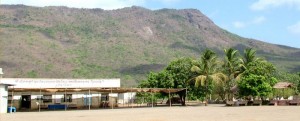 (A view of Prernadham Ashram)
In this interview with Shri Hasu Bapu, you will get to know more about the Ashram, its activities and Ayurveda.
Videos of Interview – 3 parts
Part 1
Part 2
Part 3
Special message of Shri Hasu Bapu for SpeakBindas.com
For more information, visiting purpose, you can contact Ashram devotees directly at:
Address:
Praneta Parivar Trust (Prerna Dham Ashram)
Bhavnath Taleti
B/h Bhavnath Temple
Junagadh – 362004
Office: 0285-2621419/2624577
(M) 9427911346 (Lalbhai), 9824299218 (Anilbhai)
Website: http://prernadham.org