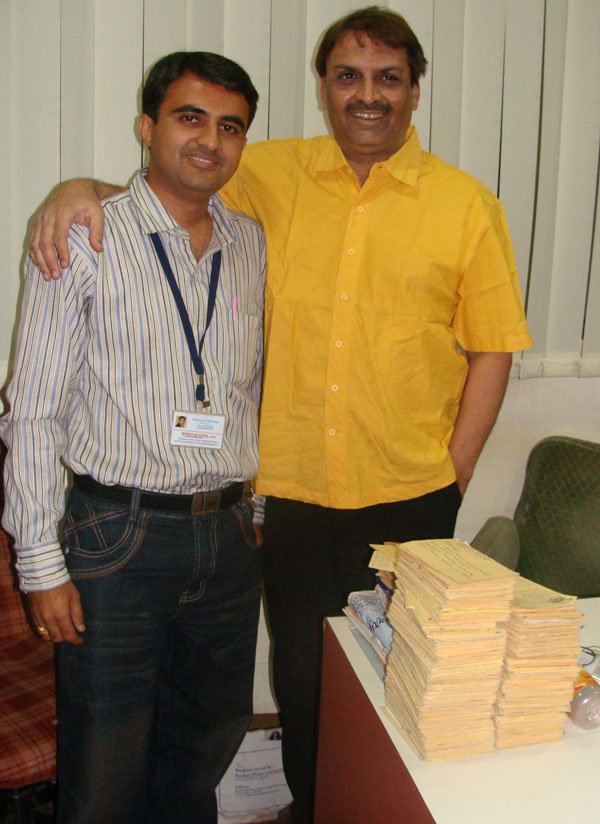 Ashok Dave a is a true Humorist. He has this extra vision and observation power that he makes ordinary thing seem extra ordinary. A very eminent writer from Gujarat.
Video of Interview
Ashok Dave writes three weekly columns in Guajrat Samachar, a daily Gujarati local newspaper, namely 'Dur Koi Gaye', 'Budhvarni Bapor' and 'Encounter'.
Where in which in Dur Koi Gaye, he covers old bollywood songs, its lyrics, his take on bollywood musicians and singers. 'Budhvarani Bapor' is for humor. He canvasses his thoughts and observations from a common life in a very humorous way. He has this very interesting and highly popular weekly column 'Encounter'.
Where his fans and readers can send him any stupid, weird, unrealistic question, seeking an answer, and Ashok Dave gives quite intellectual, funny, humorous answer.
This column has made him popular in readers of every age. 'Encounter' -the name itself suggests that he encounters people, the humorous way!
Meeting him was truly an honor for Speakbindas team. I have been reading his two columns 'Budhvarni Bapor' and 'Encounter' regularly. I start my Sunday with 'Encounter!'. Questions truly are stupid and weird sometimes, but the answers that he produce are truly remarkable. Ashok Dave says "After I started this column, people started asking some stupid and without meaning questions. I wanted to stop all this nonsense, but my Son Samrat suggested me that Dad, let people ask such questions. It's you who should answer them sensibly and yet humorous."
When we visited his office at Gujarat Samachar, Ahmedabad, we saw hundreds rather around few thousands yellow postcards spread all over his table that he received from his fans for his column 'Encounter'. I instantly remembered Doordarshan's old program 'Surabhi' where people used to send postcards in counting of lakhs.
Here in, he writes answers directly in computer and says "There is no such a mechanism for answering, whatever comes in my mind after reading particular question, becomes its answer."
He receives postcards from all over the world. His fans based in other countries such as USA, UK etc. too write to him. His fan following from Gujarat is very huge. And those yellow postcards on his table is a proof of the same.
When we asked him that if for a moment he forgets that he is a writer and then he looks at himself, what he would think of him? He instantly said "It doesn't matter if I was a Panwala if I wasn't a writer. I truly am proud to be an Indian. I am really thankful to God for making me an Indian and not a Chinese, American or so."
He also shared a story from his tour to China with his son Samrat. Mr. Dave says "I went to China with my son Samrat and we both were in a local market. A girl more beautiful than an air-hostess came to me. She was selling binoculars. Now as I was told that I could see Mount Everest from window of plane, I thought of buying one. I asked for the price. Now she didn't understand much English, but somehow I figured out that she said its price Rs.6500/-. I was shocked as I felt this was cheap. But as an Indian, I started bargaining, though neither she or I could understand each other. I was even ready to buy it at Rs. 6500/- but was trying to decrease whatever possible amount. I tried so hard to tell her my price for buying binocular, but she couldn't follow. But then, somehow she understood it. And as I was about to buy it for some Rs. 3000/-, my son Samrat came and asked me not to buy it. He said it was costly. Now again I was shocked. I said to Samrat that, this is not costly, and we could see Mount Everest. But because Samrat insisted, I didn't buy it. Few days after, when I visited an Indian Market, I saw those Binoculars and I was amazed. I asked its price and to my wonder it was only Rs. 350/-!!! How true Samrat was!".
Ashok Dave, in his many articles have said that he is too old and uses word "Buddha" for him, which means an old person. When we met him, we straight away felt that he was so wrong!
Yellow color T shirt was looking so fine on him, and he looked around the age of 45 to 50, which is not a sign of an old person. Moreover, his body language no where was proving he is an old person. He says "Look Devang, If I had told you before meeting that I am a young person.
You would have come with pre thoughts of me as a young, and might have been disappointed by seeing me and feeling I'm not so young. So what I do is, Firstly I disappoint people saying I'm old, and then after meeting me, if you feel that I'm not as old as I keep saying, you would feel good".
He also discussed with us how his youth was. He used to be very thin and ugly dukly, having face cheeks non-visible. He used to stammer a lot and used to carry a huge amount of inferiority complex. But he played Table Tennis a lot to make his body fit.
And before our interview was over, an office boy came into his chamber with a very beautiful flower bouquet which was sent by one of his fans. This talks about his popularity and how much people love him. To us, he was very generous, polite and down to earth personality. We thoroughly enjoyed conversation with him. It was like meeting someone we knew, when the matter of fact was we had never met him. But he created such a friendly atmosphere for us that it all went easy, nice and sensible.
This interview is an effort from Speakbindas to shed more light on Ashok Dave, whom people love and admire a lot.