About Girnar Parikrama
Girnar is very famous mountain in Gujarat. In fact, it's a mountain range. Every year, on the occasion of Dev Diwali (which falls after 15 days of Diwali festival) people from different parts of Gujarat participate in the Parikrama (pilgrimage walk circling the mountain Girnar). The length of this parikrama is 36 kilometres.
My experience
I left from city Rajkot on a fine morning of Saturday, i.e. November 5, 2011. Reached to Junagadh city at 10:30. Straight away went to visit Madhavanandji, a saint living at Brahmeshwar Ashram near Damodarkund. After having some conversation, followed by Prasadam, I started my pilgrimage walk at 12:00 noon.
At the entrance, all what I could see was people, people and lots of people all around me. Of course, it had to be that way, as every year lacks of people do come for parikrama.
I had taken few things with me such as camera, water bottle, brush, light bedding, my books, cap, extra pair of clothes, extra pair of footwear and I guess that's it. Just when I had started walking I noticed a Nagabava sitting at the side of the path. Out of curiosity (and that's my normal nature), I went to meet him. He was circled by few other people too, with whom he was exchanging his Chalam (a special kind of smoking instrument). He seemed very young (later during conversation, he said he just 25 years old). He asked me sit beside him as he saw me observing him. So I went. He asked me few common things such as where do I come from etc. During our conversation he said that he had taken sanyas right from his childhood and then after he kept moving from place to place. I asked about his Guru and fortunately I knew about him – Indra Bharathiji, who happens to have a very big ashram in Junagadh. In fact, I haven't met him but have met his Gurubhai Ishwar Bharathiji, who has an ashram in Sasan and now taking care of his Guru Prem Bharathi's Ashram at Ghantvad village near Kodinar. So, there was not much conversation with this Nagabava for couple of reasons that I was a bit in hurry to go ahead and may be I didn't sense anything interesting in him.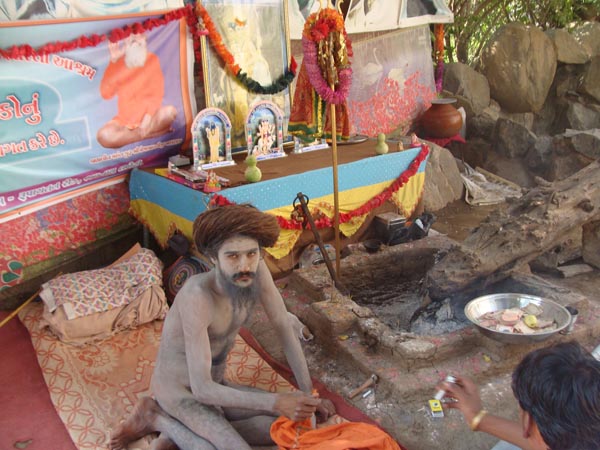 The first halt of this parikrama is known as Jinabava ni Madhi, which is around 10 kilometres from the inception point. After walking to couple of kilometres, I observed another sadhu standing with support of a swing kind of instrument which was tied with a tree nearby. He was a bit aside from the path, so not much people were around him. I felt some sense to see him so I went to him and uttered "Aum Namo Narayan" (which is the signage namaskar you do when you meet a sadhu). He reciprocated and thus started our small conversation. I came to know from him that he has his ashram near Khambha of Amreli district. His name is Mahant Shivsharangirji. The unique thing about him is that he is also known as Khadeshwariji for his special kind of worshiping by taking a religious oath to never sit down for fourteen years. This is why he was standing with the support of that swing. It had been five years since he has been following this oath, still more nine years to go. I gave him my third book "Turning Point", and left to proceed further.
Ghodi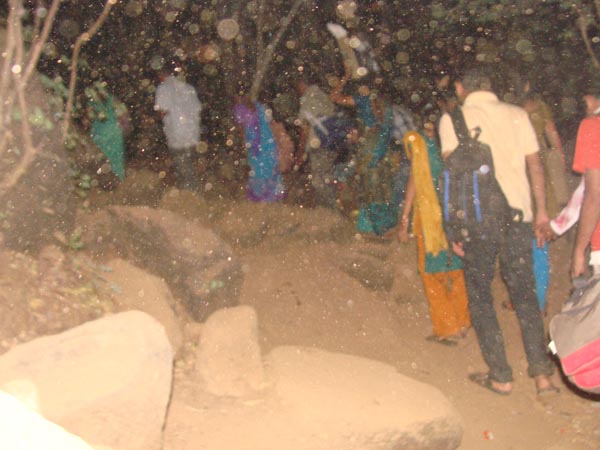 The word Ghodi is used in rural language for a small hill, rather for its path going up. The first Ghodi I experienced was towards the way to Jinabavani madhi. It indeed is tiresome as well pleaserious. As you go against the law of gravitation you do feel the lack of oxygen within you, but then you have hundreds of people ahead, behind and beside you climbing it. During the entire parikrama, I did cross such three Ghodis, the second of which was indeed memorable for two reasons, one I climbed it during nighttime and second it was the toughest of all, that toughest that at few points, I felt like I shouldn't have come here! But then, when I crossed that negative feeling disappeared with the perspiration. I was amazed to see very old people (70+) side by side me climbing as well as young people with very small kids (2 years). It's all about faith. This is the example what faith can do, if you have it in you.
I walked
I had started at 12 PM on Saturday and finished at 08:30 next morning, so It took me 20:30 hours to finish the parikrama, out of which I had taken three hours for taking sleep for three hours at night from 10:30 to 1:30.
Food stuff
I drank water a lot. Then I had buttermilk, orange, coconut water, food at one of the Annakshetras (where food is provided for free), tea and gathiya.
I felt tired
As I said, I felt tired indeed while climbing up those Ghodis, but then I already knew I was going to go through them, so in overall, despite of them, or rather say due to these Ghodis, in overall, I enjoyed parikrama a lot.
Who accompanied me?
Generally, it is said that the real fun is doing parikrama in a group. But my experience tells me otherwise. I was all alone, rather say with myself. I enjoyed my company a lot. When I wanted to walk, I did walk, when wanted to rest, I did rest, when wanted to eat, I did eat, so in a way, I was the master of myself. But having said this, I believe that parikrama in a group too would be great, and I'm looking forward to it in the years to come.
What do I take from Girnar Parikrama?
Well, looking at the normal life I have, I find it very interesting with the tough physical experience I had from parikrama. Otherwise, I never walk even a kilometer a day, and here I walked thirty six kilometres, that too with inclusion of climbing hills. So, it was indeed fun at the end.
More photos on Facebook. (Make sure you're signed in at Facebook)
Go here: Girnar Parikrama photos