Note: I was selected by Rotary Foundation for its exchange program called Group Study Exchange(GSE) for Scotland. I visited West of Scotland for tenure of one month, i.e. from September 8 to October 8, 2012. We were total five members, one team-leader and four team-members. All my posts regarding my experiences of this program are posted here on SpeakBindas under the category of GSE Scotland. Read on..
—
Ian & Margaret Davidson, My Host Family, Mid Argyll Rotary Club, Scotland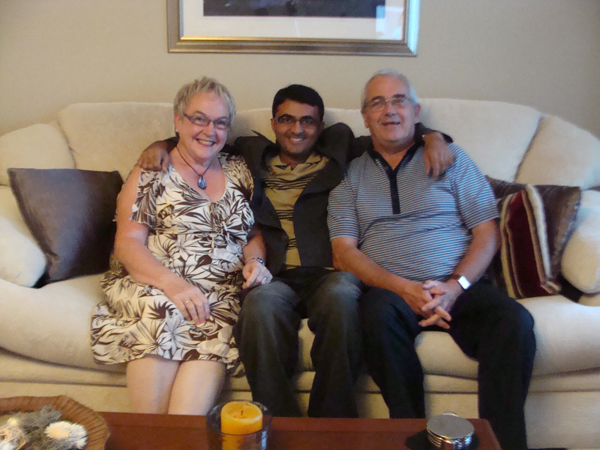 It just felt home when I reached to LOCHGILPHEAD at Ian & Margaret Davidson' home. I must confess that it took me sometime to pronounce the name of the town LOCHGILPHEAD,but as Ian explained me later on the name word by word as LOCH GILP HEAD, I could remember it like never before.
Their home is indeed beautiful. The room that I was given to stay was indeed beautiful with garden in background & a wardrobe inside. The connection with Ian & Margaret was right-on that I didn't feel like a stranger at all, ever.
The best part of my stay with them was the breakfast time. We shared some insightful conversation on breakfast table like family life in INDIA & Scotland, education system, difference in our foods, culture and what not. It used to last at least for half an hour. I made them taste our "SEV-MAMRA" for breakfast which they liked. Not only that, Margaret took few extra of it to take to the local primary school where her daughter works as a teacher. She took it to show them so that they can prepare it themselves. That was something unique experience for me. I also tasted different cheese.
Ian is also a volunteer with Church. He invited Hilda Smith – Minister of Church for dinner with us. Me and Hilda had great deal of conversation in terms of Indian culture. In fact, Davidsons had invited one primary school girl who was doing her school project on "INDIA". So, she came and asked me many questions about India like our food, our culture, our working hours, our weather, our education system, best places to visit in India etc. Below is the photo of our natural conversation.
Margaret was a keen knitter. The image of her in my mind is of her sitting on her chair and knitting. Of course, we did a lot of chat while she was knitting! In fact, she was featured in one of the local newspapers for her knitting. She does knitting for social purpose, i.e. the money raised by selling the knitted clothes is donated to Church. She has also inspired other women to do the knitting. She also looks after the Church magazine for last 10 years.
We also went together to visit Inveraray castle and Inveraray Jail. Inveraray castle is unique in terms of the present Duke still lives there with his family, and believe it or not we saw Duke walking as we were entering the castle, but neither me nor Davidsons knew them so I missed meeting the Duke. But, later when I had asked Ian about the approach of people towards Duke like is he treated as a special person or? Ian told me that of course Duke is a special person but people treat him as one of the people. And it's good for Duke in terms of he can enjoy with his family as a common person, and need not to run from fans!
Me & Ian are still connected through facebook. Staying with them was one of the most memorable experience in Scotland. Leaving them was a bit sad but that is how GSE is designed 🙂 Miss you Ian, Margaret.