Note: I was selected by Rotary Foundation for its exchange program called Group Study Exchange(GSE) for Scotland. I visited West of Scotland for tenure of one month, i.e. from September 8 to October 8, 2012. We were total five members, one team-leader and four team-members. All my posts regarding my experiences of this program are posted here on SpeakBindas under the category of GSE Scotland. Read on..
—
Alan & Denise Kirk – My First Host Family, Lochaber Rotary Club, Fort William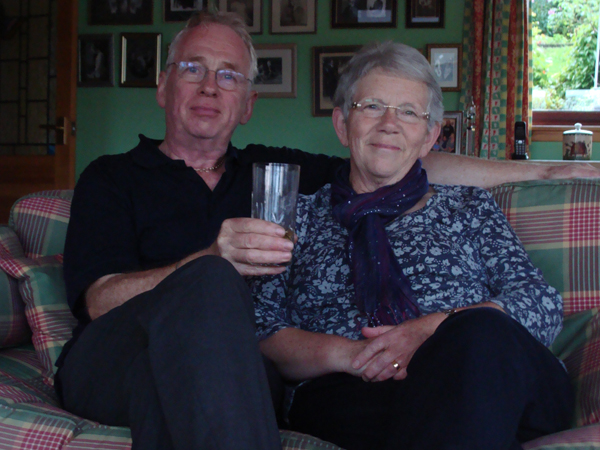 First Rotary club we visited during our GSE program was Lochaber Rotary Club @ Fort William. I remember Alan, my first host had come to Glasgow airport to receive us. He was dressed in the Scottish traditional outfit for men known as KILT. That is when I had felt like I should too wear the kilt sometime while I'm in Scotland. And that dream had come true right after two days at Fort William only when GSE Co-ordinator of Lochaber RC brought two kilts for us – myself and my team-mate Dr. Snehal Lokhandwala.
After one night stay at Alexandra Hotel in Fort William, we all were to stay with different host families. I was dropped at Alan's home by a rotarian. Alan & Denise run B&B (Bed & Breakfast), to which we call a Guest House here in INDIA. Interestingly, when I reached there, Alan was outside and was going somewhere. He invited me to join him directly, so we did transfer my luggage to his cars and went off. I was amazed to know that they had purchased a land and were building a new home for their retirement. The house was amazing. Spacious and in-front was the river and mountain range. Just like a house on hill-station. We stayed there for a while and she showed me the entire house. One thing I remember him saying was this "You spend money for Air Conditioning, where here we spend money for hitting our houses." And how right he was!
I met Denise when I reached back to their B&B cum home. She was so kind in greeting me. They gave me some time to freshen up. I was given a separate room which had all the facilities I might ask for.
They used to make delicious breakfast. I enjoyed having toast & butter with some home-made jam too. Also enjoyed pudding & porridge. After dinner we used to sit together and chat about our cultures. Alan & Denise have travelled many countries in the world and were planning to come to INDIA, so I could suggest him with few places he might like to travel. Actually, he already knew about Taj Mahal(Agra) and Rajasthan. I just showed him those places in map.
One thing I remember from our conversation was that, they mentioned at one point "We work hard and enjoy our holidays." and they were so true. At the age of retirement, they run B&B which requires great deal of energy. To take care of guests, prepare their breakfast, take care of room-service etc. One of them have to remain at the home all the time. It wasn't easy job. So indeed they work hard.
I also enjoyed Scottish Country Dancing with Denise. Denise, thanks for teaching me some steps. I still remember those steps.
I am really very much thankful for all the hospitality they have rendered to me. I am not just saying it, I mean it. Thanks Alan & Denise.