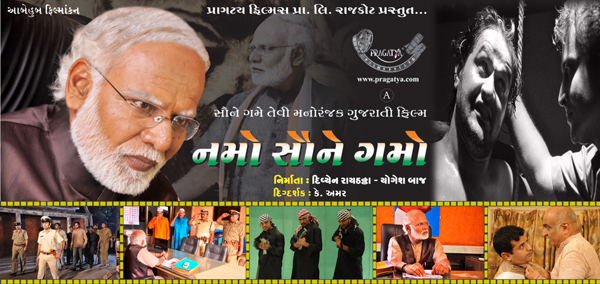 Namo Saune Gamo is a Gujarati movie, made in the trend setter generation of Gujarati Film Industry.
Divyen Raithatha, in this interview talks about its making process and its storyline in brief. Below, you can watch its trailer.
Film is produced by Divyen Raithatha and Yogesh Baj under the banner of Pragatya Films Pvt. Ltd. The movie took almost eighteen months to come to the floor of release. Around 150 people's hard work has been put in its making. Though the movie is primarily in Gujarati language, it has also mixture of content in Hindi language. Producer says that the movie is different in its kind, and will deliver a special message to the society with the entertainment value as well. There is no heroine in the movie, nor any songs.
Video of Interview with Divyen Raithatha
The title of the movie "Namo Saune Gamo" is infact a close word to a Gujarati idiom which says that those who bow to others are liked(respected) by them. But at the same time, it makes the reader think of Narendra Modi, Chief Minister of Gujarat state and Prime Minister candidate for the upcoming(2014) elections in India, for he is widely known as Namo! So this makes it interesting and to some extend controversial. Also, the lead character, shown in the film poster, looks-a-alike Narendra Modi. That also creates an impression that the movie is all about him. But Divyen Raithatha states that it is mere a co-incidence!
What's what, we will come to know after the release of the film, but the promo looks promising.
Info
Film name: Namo Saune Gamo
Produced by: Divyen Raithatha, Yogesh Baj
Production House: Pragatya Films Pvt. Ltd., Rajkot
Director: K. Amar
Actors: Staring Sharad Sharma, Kirti Maan, Husainy Dawawala, Hemang Tanna, Prashant Saluke, Manish Rohit, Jay Patel, Lalji Bhai Dewariya
FB: Pragatya Films Pvt. Ltd.
Link to Promo: www.youtube.com/watch?v=ocTh9X3xal8‎