As the board examinations approach, students of 10th and 12th standard tend to feel the pressure and stress. Despite they have done the required reading and preparation, an uncanny fear takes control over them.
To lessen this burden and ease the dilemma myself Devang Vibhakar and Vikas Rajpopat have made this documentary film. It gives a positive message to students appearing for board examinations. Also, educationalists and other dignitaries like Gijubhai Bharad, Vasantkumar Pathak, D. V. Mehta, Sonalben Shah, Pravinbhai Maniyar, H. P. Singh, Dr. K. L. N. Rao, Dr. Vijay Nagecha, Swami Sarvasthanandji, Tyag Vallabh Swamiji, Nareshbhai Patel, Yusufbhai Johar, Jay Chhaniyara, Bhartiben Mehta and Atulbhai Sanghvi have addressed the students as well as parents and give their useful messages.
Video Documentary – Vhala Vidyarthione All The Best
Credits:
Directed by: Devang Vibhakar, Vikas Rajpopat
Script by: Vandana Vikas Rajpopat
Edited by: Gaurav Badrakiya
Music by: Akshay Dave
Voice-over: Bharti Deepak Mehta
This is a 35:48 minute long documentary for students, in Gujarati language.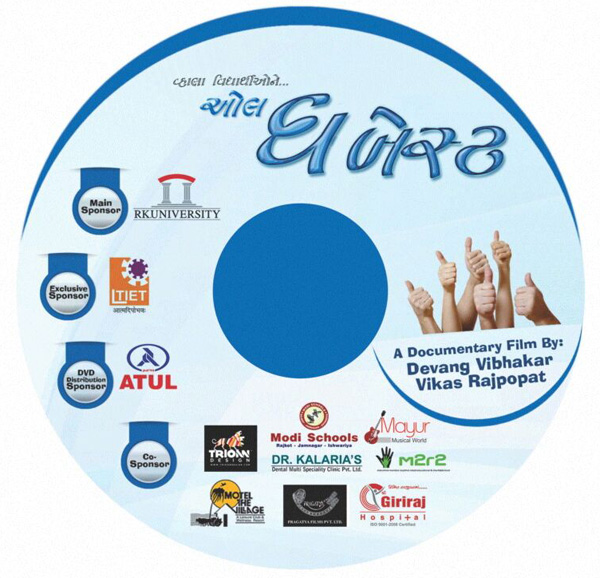 This effort of educational documentary received supportive coverage from various media, enabling and helping the project to reach to maximum of students and schools. Total of 1000 DVDs were distributed for free, with the support of sponsors.
Coverage in various media (click for larger view)