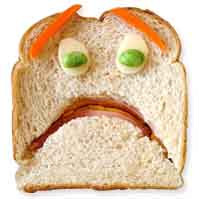 Everybody of us loves to enjoy the best quality food. Most of us are 'foodies', ever eager to go that extra mile so that we can taste something new. However, many a times, in our passion to satisfy our taste buds, we ignore certain basic facts about life. Many people love the non-vegetarian foods. They love the fish, the chicken and its variants. The more 'adventurous' amongst us are ready to graze in newer pastures and also 'try' some other animals. All this is done for one SIMPLE and CLEAR reason – SATISFY our SENSE of TASTE at any cost. That's it. That has become the goal of our human (?) existence.
Now at the outset, let me be clear. I am not against satisfying senses. I am not any of those sorts of 'pious' souls who advise people about morality. In fact, morality is a dirty word for me. Morality is always ARTIFICIALLY imposed. Neither the imposer nor the one on whom it is imposed understand the motive behind their morality theories. So, I am quite fine with us satisfying our desires, especially pacifying our taste buds when they crave for some thrill. But I want to bring out a point here, when it comes to non-vegetarian food. Just about two years back, I was a die-hard fan of non-veg food. I am a native of Goa, and our very 'existence' is connected with sea-food. Fish, crabs, prawns, chicken etc. formed my staple diet. But gradually, something began to happen. My passion for these foods began to fade. I didn't had to give up the non-veg food. But that food itself began to loosen its control over me. I was slowly turning a 'veggie'..Without much efforts on my side. But there was a reason behind this.
Just observe one thing in your life. Whenever you are enjoying a particular sense, may it be of seeing, hearing, taste, or even sexual pleasure, there is a particular mental zone that we are in. We are some sort of 'possessed' by that sense. We are somewhat 'unconscious' while satisfying our senses. We become unaware, just as a drunkard becomes after consuming liquor. So, I just did one simple thing. I just gave myself a suggestion. Next time, whenever I am eating non-vegetarian food I will eat it with my full attention to it. I shall enjoy it, but with full awareness. No step in my buying or eating the non-veg food shall go unnoticed. Secondly, I shall myself go to the market to buy the chicken and fish. There too I will follow the same rule. Just observe myself buying it. Just observe the process of the chicken birds getting killed. Just observing the screams of the birds getting killed and see fully how they struggle for their lives. Just observing the truth of the moment without running away from it MENTALLY. Just watching it with full awareness as to what is being done. Later on when the chicken is brought home and cooked, observing how it is decorated to 'appear' good. Observing how taste is added to it. Observing how all the efforts are made to camouflage the fact that a helpless life has been killed for our 'satisfaction'. And then, while eating, observe myself how I eat the flesh, how I am feeling while I eat. And eating that, with the truth in mind always. Just remembering the entire process while eating. How I went to the market with full of desire. How the bird was killed.. How it was brought home by me, and now, how am I enjoying the TASTE of it. Everything is to be observed and remembered. No truth is to be ignored or JUSTIFIED!

This process of living life with awareness gave me a major breakthrough. I began to get nausea feelings while even thinking about the entire process of me eating the non-veg food. I could see things as they are, beyond the camouflages that are being created. I could see only the flesh and the bones, and not the garnishing and the decoration of 'spices' that is being done so that we can forget we are eating flesh and bones! I could see things beyond the clouds of my desire. I was slowly coming out of my stupor. Now I did not require any morality to tell me that non-veg food is ugly. I was 'seeing' it myself! Now I didn't need Gods or the scriptures to tell me anything. I had experienced it myself. Now I didn't had to follow the idiotic tradition of avoiding non-veg food on 'specified' days (to please Gods!!). Now the crime itself was going away from the criminal! The lurk for the non-veg was melting away all by itself.
When my friends came to know that non-veg food has gone away from me, they could not believe it. In fact, they tried to convince me in all possible ways that I was wrong. Some of them said that non-veg food is good for health. Some said 'fish is good for the heart'. Some told me that their doctors advise them to have non-veg food. I decided to check the facts and whether their claims have any basis. The first fact I came across is that science has already proved that the human intestines have not been designed to DIGEST the non-veg food! Even after 72 hours of consuming non-veg, it still lies in your intestines undigested. After that it begins to decay and harm our system. If the food itself is not getting digested in the first place, from where can it be good for health? Just observe the teeth of the wild animals who eat flesh. They are so much different from ours! They are sharp and penetrating and designed to tear apart the flesh. Actually flesh, if at all is to be eaten, has to be eaten the way the wild animals eat them. It is not meant to be cooked and eaten. But we human beings have found out a way there too. We steam it, boil it and try to make it compatible with our 'humanised' way of living. Isn't all this funny?
Fish is extremely difficult to digest. Now, we know that the cod-liver oil extracted from the liver of the Cod Fish is good for the heart. But again I got to know that there are several vegetables, cereals and pulses which if consumed in the right quantity and with regularity, are equally good for the heart. So why run after fish? Moreover, whatever is good for the heart should also qualify to be good for our soul! . So why not consume that food which is good for our heart as well as for the soul?.
I observed a bit more closely. I realized that it was not the non-veg food per se that I was getting attracted to. Actually, what had captivated me was the TASTE of it. I just made simple experiments. Whenever I had the feeling of consuming non-veg, I went to the restaurant and ate some very spicy vegetarian food. I satisfied my taste buds and did not let them miss something. I just tried to substitute it with another taste. So far I had taught my brain to 'love' the taste of the non-veg food. Now all that teaching had just to be reversed. I began to teach my brain that veg food can also be equally tasty and spicy. Now a stage has come, that I don't really miss anything. Now I can enjoy the veg food the same way I used to enjoy the non-veg food initially.
Then there were another set of individuals who had read and listened somewhere that even the 'great' people of the past used to eat non-veg food. They told me that our sages, saadhus, saints etc also consumed non-veg food. One of them also told me that Swami Vivekananda was a great fan of non-veg food. I was really amused by all this! These people never remembered Swami Vivekananda's work. They never tried to emulate him in his work. But they are instantly eager to emulate his eating non-veg food (even if we assume that he ate it). How can you justify something just because great people of the past did it? And if you at all want to emulate them, why not emulate them in their entirety? Its seems people love to emulate Lord Krishna's 'RAASLEELA' immediately. Everybody wants to become Krishna when it comes to that. But when it comes to emulate something like the creation of 'Bhagwad Geeta', we are not even able to write a single e-mail properly without making any mistakes!!
Well, I don't have any complaints against those who have non-veg food. In fact, even at my home, apart from me and my father, everybody has it. I have no grudges against them. Neither am I trying to change them and forcing them to follow me. Nobody in this world has ever succeeded in changing anybody else, may they be from the same family. Everybody has their own individual journey and everybody has to follow their own individual path.
For the last two years, I have been a supporter of 'GO-VEG' campaign. I just share with my near and dear ones the importance of being a veggie. The purpose of this article is not to give you a sermon on the harms of non-veg food. I don't at all want that you should change, as I have already told, nobody can change anybody in this world. But after reading this article, I am hopeful, that at least the process of 'change' can begin in a few individuals, whose time has come to evolve..Just like my time had come two years back.