We work hard to live a life of our dreams. Money that we earn usually comes the hard way. And that is why it becomes very important to utilize each penny earned to its optimum. This is where Pennyful.in comes in place. It helps us save our money when we shop from leading online retailers. It does so by offering us either cashback or discount coupons.
By cashback, what is meant at Pennyful.in is real money coming back into your bank account.
Pennyful.in showcases leading online stores such as Amazon, Snapdeal, Myntra, Jabong, Flipkart, Paytm, Babyoye and many others. In fact, Pennyful has over 250 websites in its portfolio! To earn cashback with Pennyful, one simply needs to follow three simple steps, i.e. Join Pennyful, visit any shopping site through it, shop & earn cashback! And Pennyful offers cashback over and above the existing discounts offered on your favourite ecommerce sites.
There are two ways Pennyful helps save money. Discount coupons offered on Pennyful range in two different types. One comes in percentage and the other in fix amount of cashback. Different categories of products that are covered at Pennyful are Mobile Recharge, Flower & Gifts, Apparel & Accessories, Home & Garden, Electronics & Photo, Computers, Jewelleries, Travel, Babycare, Books etc. And it covers leading online stores respectively to the products displayed.
Indian consumers are now becoming wise. They think and shop online. They know that the products they wish to purchase can have discounts available which would save their money. So prior to placing an order directly from an online store, if the consumer spends some time on discount coupons websites such as Pennyful, chances are that they end up shopping with a broad smile on their face as real money is saved and which they can spend on other items.
And there are some factors which differentiate Pennyful from other such players.
Firstly, Pennyful offers real cash as cashback, which is credited to the users' bank account – This is not just a mere discount
Secondly, there is no minimum cashback withdrawal limit on Pennyful. What this means is that if a user gets even Re.1 as cashback, he can withdraw it. Or he can choose to accumulate it until a point he feels he is ready to withdraw it.
Thirdly, the two biggest ecommerce players of today, i.e. Amazon and Flipkart, are both on Pennyful! Pennyful is the only cashback website to offer either cashback, or gift cards, on these websites.
Also, only on Pennyful, users have a choice of what they can do with the cashback they earn. They can either choose to withdraw it, or even choose to donate it to a few charity organisations listed on Pennyful.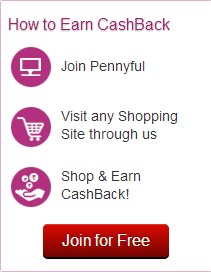 Pennyful.in has a neatly designed website interface which showcases a user friendly layout displaying categories as 'Top Cashback offers', 'Top coupons & discounts this week', 'Top Sales this week' etc. which gives the user a handy surfing experience.
Thousands of online consumers are saving money on Pennyful and as of August 21, 2014 Total Cashback earned by Pennyful members is Rs. 1,03,88,458/-, which is huge.
So next time, when you decide to buy something online, have a look at the cashback and discount coupons offered at Pennyful.in as it will definitely save your money. And they rightly say, a penny saved is a penny earned!