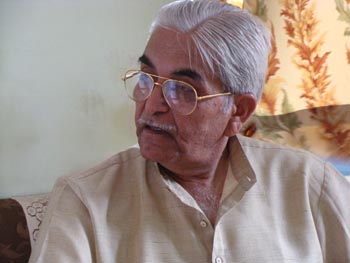 માતૃભાષામાં પ્રાથમિક શિક્ષણ એ બાળક,
કુટુંબ્, સમાજ અને દેશના હિતમાં છે.
આ વિચાર ખોટો પુરવાર કરનારને એક લાખનું ઇનામ.
Video Interview of Dr. Harshad Pandit
Dr. Harshad Pandit is a retired veterinary doctor. He is 66 years old. Most of the retired people, start living a relaxed or homely life, as they have worked for years, and then they require rest. Dr. Pandit is not one of them. He is utilizing his post retirement time by servicing his mother-tongue – Gujarati. He has taken this mission on his hands, where he shares the message of "Primary Education should be in mother-tongue only, and not English medium." So far, he has distributed total 1,26,000 booklets, which contains all requires information, questions, answers and reasoning proving why he is spreading the right message.
Believe it or not, but he has spent his own Rs. 4.5 lacs for this mission. And he says he is willing to spend more 4.5 lacs if that helps spread awareness in the society. He has been keenly observing those families whose children are studying in English medium. He says "Child goes to school at morning, goes for tuition at noon and does his homework at evening. His childhood is snatched away from him. Parents, mother and father, blame each other for the weakness of their child. Quarrel takes place. Tuition fees is real high, and even after that the school Principal calls upon them to school saying their child is weak in studies. The development of the child is killed this way, and his talent is snatched away. The hard work from both the parents and the child becomes useless. The child doesn't know perfect English or mother-tongue, say Gujarati here. They remain weak in Mathematics and Science. I am not from the educational field, but I can't bare seeing the hard work parents and children of my society becomes useless. It is of utter sadness that tomorrow's citizens would be such children."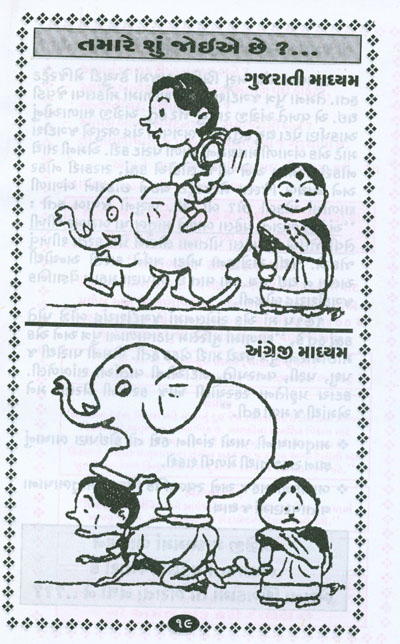 Dr. Pandit has studied the roots for this blindly following of English medium by the people. He says "The root cause is T.B. Macaulay, who made us the blind followers." He shares a letter with us which is written by T. B. Macaulay addressed to British Parliament on February 2, 1835, which is as below:
I have traveled across the length and breadth of India and I have not seen one person who is a beggar, who is a thief.

Such wealth I have seen in this country such high moral values, people of such caliber, that I do not think we would ever conquer this country; unless we break the very backbone of this nation, which is her spiritual and cultural heritage.

And therefore I propose that we Replace her old and ancient Education System, her culture.

For it Indians think that all that is Foreign and English is good and greater than their own, they will lose their self-esteem (identity), their native culture and they will become.

"WHAT WE WANT THEM" (black English people – self made slaves) a truly dominated (slaved) nation.
And here is another letter which was written by him to his father.
Calcutta, October 12, 1836

My Dear Father,

Our English schools are flourishing wonderfully. The effect of his education on the Hindoos is prodigious. No Hindoo who has received our English Education, ever remains sincerely attached to his religion. some continue to profess it as a matter of policy and some embrace Christianity. It is my belief that, if our plans of education are followed up, there will not be a single idolater among the respectable castes in Bengal, thirty years hence, and this will be affected without any efforts to proselytize, without the smallest interference with religious liberty of by natural or eration of knowledge and reflection. I heartily rejoice in the prospect –

Ever Yours affectionately

T.B. Macualay
————–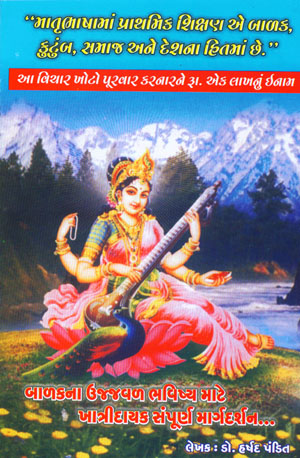 Some of the excerpts from his question / answer session in his book.
Q. The highest spoken language in the entire world is English. So my child must study in English Medium only..?
A. This belief is totally wrong. The highest spoken language is Chinese, spoken by 97 crores, second is English which is spoken by 48 crores and the third one is our national language Hindi, spoken by 44 crore people.
In the developed countries of world such as Japan, France, Germany, Russia, China etc., total education is given in mother-tongue only, because if you have total control over your mother-tongue, it would be easy to understand other languages and subjects.
English should be taught as a subject not as a medium.
Q. Those who had their primary education in Gujarati medium, later during higher studies they have to study in English, this way, the higher education becomes tough for them.
A. Again, this is a belief having mistakes in it.
This question arises, when your child becomes a teenager. Now, thinking about college education, why should we put burden on a 2.5 – 3 years old child, when English language would be totally new to him? And, we can always teach him English as an additional language when he becomes a teenager.
——–
To know and discuss more on this topic, you can reach him directly at below address.
Dr. Harshad Pandit
"Om", 4 – Karanpara, Rajkot – 360 001. (Gujarat, India)
Tel: +91 281 2229385, cell: +91 94282 99637
Email: prathmik.shikshan@gmail.com (Not able to check regularly)