હુ તો સ્ત્રીનો હેવાયો છું એમ બિન્દાસ રીતે તો માત્ર રમેશ મહેતા જ કહી શકે.
Videos of Interview – Total 3 parts
Ramesh Mehta Part 1
Ramesh Mehta Part 2/h1>
Ramesh Mehta Part 3
First of all, this isn't exactly an interview of Ramesh Mehta. They are merely moments I spent with him. Being a Gujarati, I knew of him since my childhood, mostly because he was the only comedian in Gujarati Film Industry then. So all of a sudden, I got this feeling of meeting him. Now I knew, he lives in Rajkot city only. So me and my friend Sandeep K. Maniaar, went for a ride searching for his home. And as they say "Will will find a way", we found his home.
The home looked like a bunglow from outside. I knocked the gate few times, as I couldn't see a bell-switch on outer door. But before I could see him, an Alsatian dog started barking at us. I guess, that was the bell system, Ramesh Mehta has put at the outer gate! I waited for more couple of minutes thinking that, due to dog's barking, perhaps Ramesh Mehta or someone living in the house would come out, but no one appeared, so I gathered strength and entered, and as I was inside, that dog rushed towards me!! But I knew, animals understand the language of love more than the humans. And they reciprocate with the same feelings that we render towards them. I acted like I knew the dog, and to my surprise the dog started playing with me. I guess, I received the official welcome in the home this way! Later, I came to know, the dog was a female and her name is Julie. What a sweet name!
I had no idea, how old Ramesh Mehta would have grown up. He was right there inside the dining hall, watching TV. Seeing us, he switched off the same, and came outside. He has this very nice garden type passage in his home, where number of beautiful plants can be seen, along with few big tress. He inquired as if where we come from, and for what? Knowing us, he didn't seem quite pleasant. Mostly because, many reporters often try meeting celebrities and that sometimes snatch away their personal life. But I said that we have just come to meet him. Interview was the second thing, if that was okay with him. He said OK, and drove us towards the swing-board, which looked like the place of a king. He offered us couple of chairs and thus started our conversation.
The talk started with his comments on the current television programs. He shared his serious views the humorous way. He said that we get to see same concept in all the television serials having women characters crying all the time. Also taunted on Babas, saying that why do you bother others? Let people solve their problems themselves.  Rameshbhai says "This is very psychological. This affects very badly to the medium class families. Looking at costly cars, bunglows, clothes in television serials, the middle class families get a disease of dreaming of impossible material things. These serials take us away from the reality."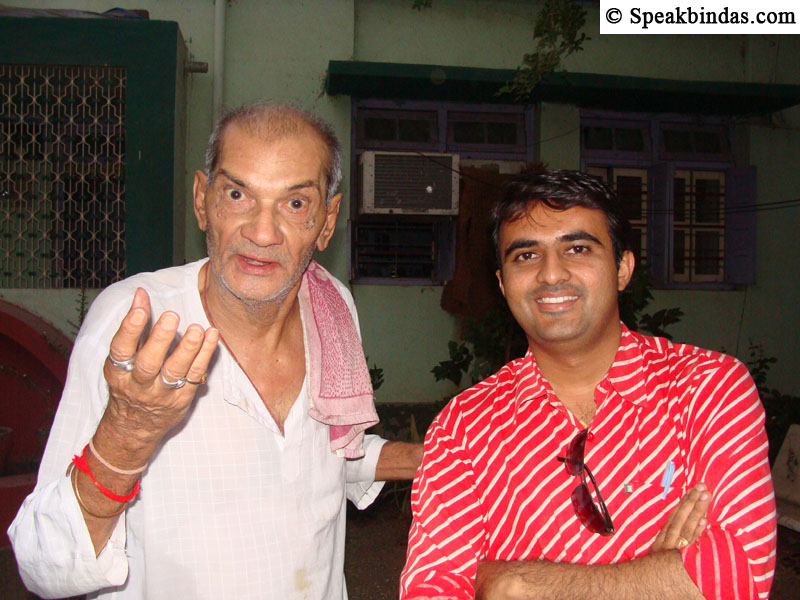 Rameshbhai also says "People liked me only because I was helping them to come out of their real life. I was giving them a reason to smile, laugh."
The bitter truth he shared about being celebrity. Wherever he goes, he is treated as a celebrity, and not as just another person. Like he says "If I go to meet a doctor for treatment of some my diseases, what happens is, the doctor starts introducing me to his patients instead of doing my treatment."
Rameshbhai is 76 years old (as on year 2009), but still looked very energetic. He lives alone in his home in Rajkot city. Even at this age, he went for voting, which shows how aware he is.
A very interesting story he shared with us, which describes that he lives in the moment only. He says "Someone called me up and said that he has written his biography, and he is sending me the same through courier. I didn't say much on phone. In next few days, I received the courier, which I returned back saying the courier man that I already have it. Next day, I received the call from that person asking me that why I returned the courier. I said to him that, dear, what would I do with the ashes of your past? If you have something to share about your present, I will be more than happy to do so. The ashes of past are not even accepted at cemetery. "
Ramesh Mehta believes in living in the present. He says that ask me anything related to present, how I live, what is my mental status at this age of 76, if I have something to say about the conclusion of my life? I will be more than happy to answer the same, provided if it is related to my present.
Seven questions that Ramesh Mehta calls as Questions of Hatimtai, which he prefers not to answer. "Only because you knew the answers of the same, that you heard a lot of me due to such questions, you came here to meet me. Why to ask those question again? Ask me something new, like how I live my life at this age?"
Where were you born?
When you entered the film industry?
Why you chose this field only?
Which is your very first film?
Which is your very first play?
When did you write your first film?
What you did then after?
The only companion Ramesh Mehta has is the Alsatian dog Julie. I noticed that, Julie was like a family member for him. He used to talk to him like talking with humans. And even Julie used to reciprocate with feelings, which means more than words.
He seemed Bindas throughout the talk. Like, when I asked him that whether he feels loneliness at this old age? He instantly replied "હુ તો સ્ત્રી નો હેવાયો છું, અને એજ નથી, બાકી બધુ છે. I have enrolled my name in many marriage bureau. Am I not a human? I also insist others too, who are suffering from loneliness. A company of a woman even for four days, or even for fours hours is enough. How much time we have, we should spend together. And then at any point, if feel like departing, most welcome. Let's keep walking. Let's not stop."
Rameshbhai says that you will get the real laughter from little children only. Their laughter is without any attempts. Just great. So keep smiling.
You will get to see more than this in the video below. And don't miss the end, where he shows his most famous act of "Oho, ho, ho ho ho ho….". He gladly accepted my request for doing this. Am indeedly thankful to him for this.
Filmography as Actor: (List may be incomplete)
Hiran Ne Kanthe (1984)
Dhola Maru (1983)
Marad No Mandvo (1983)
Dholi (1982)
Jagya Tyathi Sawaar (1981)
Maniyaro (1980)
Ganga Sati (1979)
Sone Kansari (1977)
Bhadar Tara Vehata Paani (1976)
Santu Rangili (1976)
Hothal Padmini (1974)
Jesal Toral (1971)