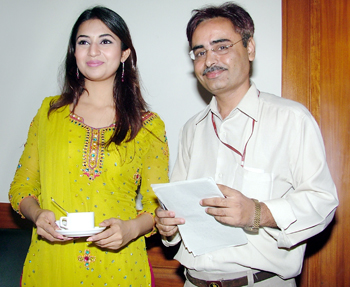 Jayant Pithadia with television actress Divyanka Tripathi
Jayant Pithadia is a senior journalist, writer, film critic and a visitor lecturer. He has been professionally writing since 1991. He expects people to recognize him as a writer than a journalist. At present, he works with 'Phulchhab' a Gujarati daily newspaper and 'Kathiyawad Post' a Gujarati monthly magazine. He likes to write on versatile subjects, mostly on cinema, stories and events that affects the human-life. He has also written a book on Guru Dutt which is published both in Gujarati and Hindi languages, which was admired by Shabana Azmi and Naushad like cinema people.
He shares his writing journey with Speakbindas Volunteer Correspondent, Vikas Rajpopat. Vikas, as always brings the most creative stuff out by asking deep questions. Watch the interview video and read the excerpt of the interview conversation to witness the same flow.
VIDEOS OF THE INTERVIEW ARE HERE BELOW.
Part 1
Part 2

Speakbindas:
Namaskar Jayantbhai. People know Jayant Pithadia as a columnist and read his columns. But if Jayant Pithadia is asked to introduce himself in his own words, what would it be?
Jayant Pithadia:
First of all I would like to say that I expect people to recognize me as a writer, because I am more inclined to writing than journalism. Hence, it is quite obvious that I would like to be recognized as a writer by people.
Speakbindas:
Since when you are associated in the filed of journalism? And when did the journey start?
Jayant Pithadia:
Since 1991, I am in the field of journalism after completing the course of Masters in Journalism and Mass Communication. But I used to write well before that and I can say that I am writing since my childhood. In "Phoolwadi" magazine, I used to write children-stories. And from 1984, I started writing short-stories in a Gujarati daily 'Phulchhab'. And thus writing-journey was going on. But my pen became mature after I pursued MJMC and started writing news stories, features etc.
Speakbindas:
So when you started your professional journalist career, which field you were writing for? Or you started with editing-desk?
Jayant Pithadia:
Yes, I started with editing-desk. I also did field work and as a part of it, I was fortunate to meet people from various sectors. My favorite subject as a journalist is 'features'. So I love writing on different subjects. Of course, I have done news-reporting too, but as I said I was more inclined to write human-interest stories and cultural subjects were on my primary focus. Cinema has been my favorite subject. I have written a book on Guru Dutt and is published in Hindi language by the name "Guru Dutt Ki Parchhaiya". The same was initially published in Gujarati language. Then I wrote many film reviews too, met various film actors too.
Speakbindas:
You just mentioned about your book on Guru Dutt. Could you please tell more about it?
Jayant Pithadia:
I was attracted to movies since I was a child. When I was studying in 11th standard, I watched Guru Dutt's movie 'Pyasa' on Doordarshan channel. And that movie affected me so deeply that it's hard to express it in terms of words. And it has been 25 years that I watched that movie, but still I am under the impression of the movie. Why I feel so is because I believe that in that movie the X-ray of human-life was described. Human-life was described with a creative angle in that movie. That evoked me to do some work on the movie and movie-maker. But that idea was lost for a while.
And then after I joined MJMC course after completing BJMC course. My the then guide was Dr. Yasin Dalal. I asked him if I can pursue MJMC with subject of cinema. He said it is possible. I shared my desire of researching on Guru Dutt's work as our sixth paper of MJMC is about dissertation. So just to research on Guru Dutt, I enrolled for MJMC course and not that I researched on Guru Dutt's work to complete my MJMC. And that effort of mine was clicked such a way that I received both fame and wealth.
During my research, I was fortunate to meet colleagues of Guru Dutt. They shared very useful information about him. My research was accepted by Saurashtra University as a part of my MJMC course, but it was also published as a book and that was read by Shabana Azmi and Naushad like celebrities. Magazine India Today also took note of this book.
I would also like to say that, the education that I haven't received from school, college, religious places, I have received it from Cinema. Cinema has enormous contribution in my life and career.
Speakbindas:
You write on features, book reviews at Phulchhab. Apart from that, what others subjects you have to take care of?
Jayant Pithadia:
I am working as a Sub-editor there and do news editing. We receive letters, cuttings from city and outside. We receive news/events through Fax. So as per the norms of our press, we edit the same and make it appropriate for publishing. I have worked for few other press too, so my duty has differed from press to press depending on its norms and terms. We also receive news from trunk calls. And these days, with the help of internet, we are able to make news as well.
Speakbindas:
You also write a column for a magazine known as "Kathiyawad Post". Do tell us about it.
Jayant Pithadia:
The title of column is "Vichar Vishesh". I believe that column writing is a type of literature only, and literature is mirror-image of our society. About journalism, it is said that, it is a literature which is created in hurry. So according to me a columnist is a combination of a journalism and a literature. We can say that their writing is the reaction of the particular event. And he sees that event with his own creative angle and then writes about it in his own words.
So in this column of mine, my reaction is seen towards the various events that occur in the society. And sometimes, such events do not happen, then what happens, some inner sensations become the reason for writing. So my column has write-ups on versatile subjects.
Speakbindas:
You are associated with journalism for years now. You write a column, also work on editor-desk at Phulchhab. So we can say that your social life is full of versatility and is long too. Does it affect your personal life?
Jayant Pithadia:
First of all, I would like to say that I believe myself as a transparent personality. I am same at both the inner and outer sides. So I don't have much as a personal life. So my personal life at home is similar to my social life and vice versa.
Speakbindas:
Jayantbhai, time is always going to be a constraint. But one thing I would surely like to ask you that what message you would like to those people who wish to pursue their career in journalism field?
Jayant Pithadia:
My message to those who wish to pursue a career in journalism is that, we should neither be overwhelmed by our success nor be disappointed by failures. Our life is like a journey and in that a destination is never arrived. We tend to lose the joy of life if we reach to a destination. The real joy is in walking towards the destination, and which is far joyful than to reaching the destination itself. So my message to them is only that, just keep walking the path of life without being overwhelmed by success and depressed by failures.