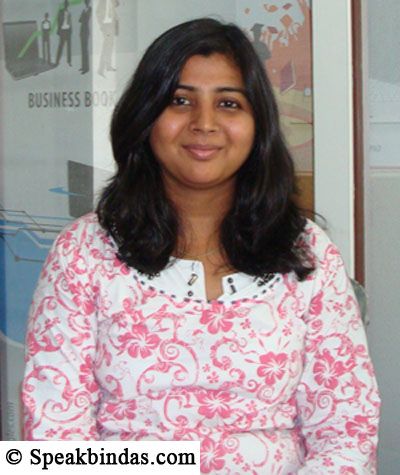 Rajkot's very first popular female RJ – RJ Deval
The owner of Husky voice, RJ Deval received huge popularity and fan base in Rajkot during her working span of 10 months as an RJ in Big 92.7 FM. While she communicates with you, you just witness the flow of clearly audible words. She also carries a big cute smile with her.
Apart from RJing, she has acted in a movie called "Samanjas", which is a story about deaf and dumb children. The characters were played by the real deaf and dumb boys. Deval played the lead role in the movie. The story goes like, out of the four deaf and dumb boys, one meets death while crossing a road, and hence the rest three feels severe disliking towards their dark life, and attempts for suicide, but they are stopped by the rector. Later, they meet a girl, who is blind, deaf and dumb, but she is so much vital that she performs all works of her life like a normal person does. This girl inspires those boys to live their life, and at the end they confess to this girl that to live a life, physical organs are not must but the inner-desire.
Deval performed the role of this blind, deaf and dumb girl. Movie was appreciated all over the world.
Enjoy below the chit chat we had with RJ Deval.
Speakbindas: You are known as Rajkot's very first popular female RJ. What is the story behind that?
RJ Deval:  Well, to be honest, while I was doing my graduation, I came to know that Big FM, a Radio channel is looking for RJs.  I had no much idea about what an RJ is all about. I appeared for the interview, went through six rounds and I passed through all of them. The remaining is the history. My voice was little different from the routine RJs, it wasn't a typical girlish voice. It was a bit husky voice. So people at radio channel were initially doubting that how can they utilize my voice as an RJ? Initially, I was given a women band, which was an 11 am to 1 pm show. Then, they felt like that let's offer her a night band, which is 9 to 12.  Now, 9 to 12 is such a show which requires a husky voice, and which I owned, so things started rolling from there.
Speakbindas: As an RJ which show you hosted? Tell us about the show.
RJ Deval: At Big 92.7 FM, I used to host a show named 'Honey Dose'. It had a very catchy punchline "Ho jaiye dil ke close, Lekar honey dose, Aapki aur sirf aapki dost Deval ke sath."
Theme of my show was sort of share your feelings. Like I was a friend for the listeners and they can ask me anything considering me as their friend. Because 9 to 12 is an youth oriented band, I used to receive many funny, serious and sometimes weird questions. Like a mother would ask me "My son eats only fried items, what should I do?", where as sometimes I used to get some funny questions like "I love my wife and I love my wife's sister too. Whom should I live with?". You would be surprised if I mention you one question here. One day, I received a call from a guy and he said "I love a girl, and she loves me too. I just need to propose her. Only the thing is she is married, what should I do?". Well, here it wasn't always easy for me to answer, but fortunately, I could show them the right ways.
Speakbindas: Well, RJs are known to be very energetic all the time, like they talk a lot and at the same time being so much into the show they are hosting. What's the reason for being so much energized?
RJ Deval: RJs are 24 hours RJs. Like if you wake me up from the deep sleep, I would utter "Big 92.7 FM!". It's like, when we have the mike in front of us, our entire world gets changed. It's like only because they are so much energetic, they are RJ.
Speakbindas: At present, you're not working as an RJ anymore. What's the reason and when you left this profession?
RJ Deval: I quit this profession in December 2008. I started feeling really over-stressed, and as I had to speak a lot, I was diagnosed with piles in my throat. And my voice therapist suggested me to give at least 6 to 8 months of rest to my voice. I was not allowed to speak anything at all, and my communication was through writing on a slate.  At that time, I completely lost my voice. And at one time, I was faced with two options, i.e. either I had to chose my M.B.A. or my RJing, and I went for my academics. But if I tell you in short I have lost my original voice, though working on it through voice therapy.
Speakbindas: What message you would like to give, particularly to girls who wants to become an RJ?
RJ Deval: Well, it's not an easy job to become an RJ, if you're taking it lightly. It has some toughness too. It really requires great workout. You need to remain uptodate with latest happenings. But yes, spontaneity is the prime skill you should work on, if you really have a dream of becoming an RJ. Given any situation to you, you should be able to tackle the same spontaneously. And being an RJ, people expect the same thing from you that how you react to particular questions and situations. So if you have spontaneity running in your veins, you can surely become an RJ.
Speakbindas: Any message to your fans who are missing you today as an RJ?
RJ Deval: Well, I have the same message that I always used to tell to my fans "Ho jaiye dil ke close, Lekar honey dose, Aapki aur sirf aapki dost Deval ke sath." Deval is always your friend. I'm in touch with my fans through Okrut. Keep in touch.