It's truly said that this age of internet is not just about giant companies but also for small scale and medium scale industries. For a presence on internet, there are some basic but essential technological requirements need to be fulfilled, i.e. domain name registration and web hosting. When it comes to India, we mostly depend upon international hosting brands. But we are unaware that there are some quality companies existing in India itself providing these services. One of them is SSD Web Solutions.
SSDIndia.com provides web services such as domain registration, web hosting, reseller hosting and business email solutions, i.e. Bulk SMS service and Bulk Voice service. They do have track record of having registered 2000+ domains and hosting 500+ websites. Their prime focus is to provide the web solutions to start-up companies in India who do not operate with large budgets. But they do not compromise on services rather give different customized packages for hosting that are affordable and technologically sound.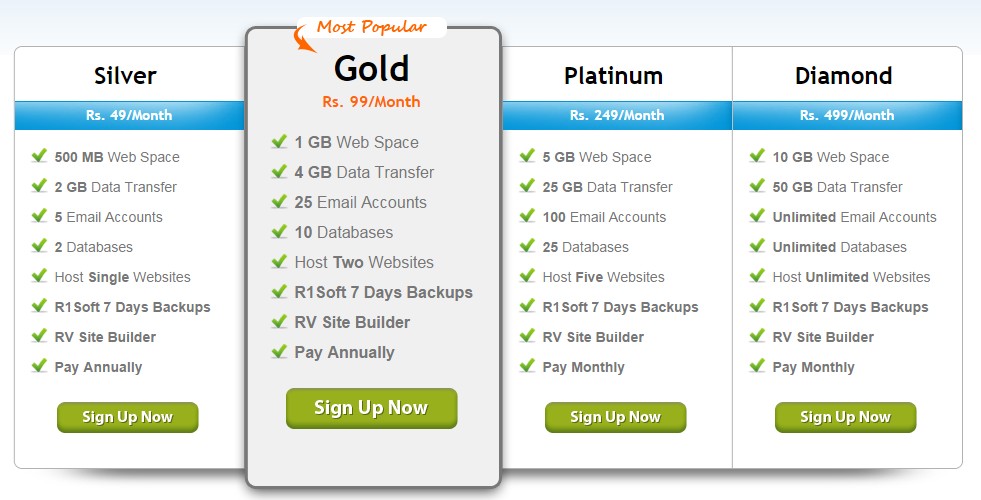 From personal experience of having registered 50+ domains and running variety of blogs and websites, what I can say about a good hosting company is that it should have 99% up-time, prompt customer care, and competitive prices. SSDIndia serves them all. They have track record of having their servers' up-time 99%, excellent customer care with positive testimonials from clients and prices are really competitive. For instance, their Gold Plan for Linux Hosting offers 1 GB Web Space, 4 GB Data Transfer, 25 Email Accounts, 10 Databases, Hosting of Two Websites, R1Soft 7 Days Backups, RV Site Builder and many other features only for Rs. 99/month ! Can you believe it? If you're running a company and want to have a dynamic website of it displaying its products, photo gallery and services, this package is enough. It's like below INR 1200 per year. It can't be more cost-effective than this.
Additionally, they also offer Bulk SMS services which helps you to have a cheapest marketing solution for your business for as low as 10 Paisa/SMS. They also offer the service of Transactional Alert SMS Gateway which helps you create an intriguing business model where your clients are sent SMS alert for various actions such as registration, purchase or whatever, depending upon the nature of your company/institution's work. The same does cost as low as 11 Paisa/SMS.
SSD India Web Solutions Pvt. Ltd. Is a registered company. It can be reached at:
Phone: +91-8055766610 (Mon-Sat 10 AM to 6 PM)
Email: info(at)ssdindia.com
Facebook: https://www.facebook.com/ssdindia
Registered Office
Sangmeshwar Nivas, Nath Nagar, Rampur Road
Degloor – 431717,
Maharashtra,INDIA