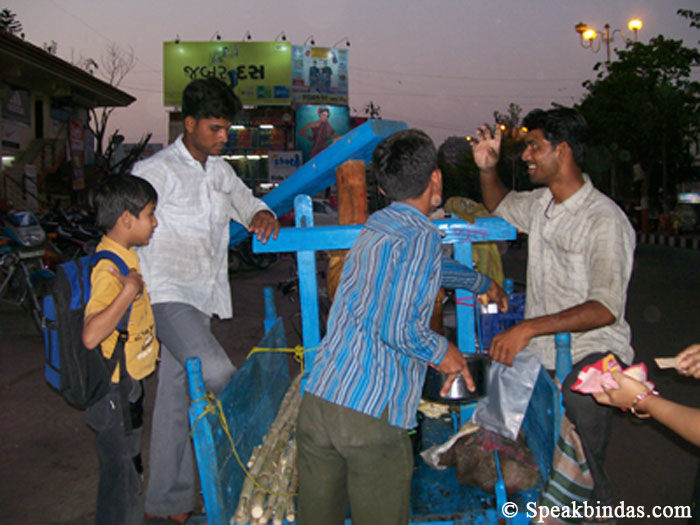 Oh my god, summer has come!
But there is also a season of sugar cane juice, the natural drink which gives you energy to work in hot summer.
One day  I was going for shopping in Prime arcade in Adajan in my city Surat and I was thirsty, I always believe in natural drink, I never take artificial soft drinks, it's not healthy for health conscious people like me, so I saw a little  machine was working with electric motor, it was a sugar cane juicer.
A person was making juice rapidly because of his customer's demand. I shoot this video, I asked him to take a video, he was feeling shy and confused, so, he said, I have to ask to owner of this machine, so he asked him but his boss was not able to get him, then I went to make him understand the situation & finally he said "Ya of course, it's my pleasure"  the person who was servant of him he was so innocent and honest, we can see this kind of honesty mostly in India all over.
Then he made juice for me, the original name of sugar cane machine in Gujarati is "Ras no sichodo". I know it's difficult one to pronounce but yet true, I shoot his video when he was making sugar cane juice. At many places people are adding few drops of lemon, salt, black paper which makes it more tasty. Generally prize of one big glass is 5 Indian rupees. Then I thanked him and said bye.
Just after few steps I saw another machine which was a little bit different than the previous one, a person was moving with one cart kind of thing, this was the most different one thing I have ever seen in my life, because it was totally working out by man strength. It requires  5 to 10 revolution to that particular mechanism, which was totally man made. I salute to those people, who are working so hard to give pure fresh sugar cane juice to their customers, so, I shoot their video too. It was my life's one of memorable experience to shoot them, it was my pleasure.
Now, there are also sugar cane shops available at many places in U.S. The cost of one glass is 5 $ only, Indian will say we can buy sugar cane juice for the whole society in this much amount, ha ha, but it's true. People in abroad are missing sugar cane juice of India, they never feel satisfied by that juice if they are not in India.
Because it's unique taste of Indian sugar cane juice. They can't feel and taste in U.S.
In summer, sugar cane juice is like national drink, because every age individual are drink it being satisfied.
Friends coming from college, women going for shopping, kids, elders, youngsters, one can see every age individual chatting around that place, they are enjoying drink with their friends, chatting about daily routine and incidents, generally students are planning for their studies or making comments on others, women are talking on their social issues, elders are talking about  politics and current market situations. So, I was listening few of them. It was fun.