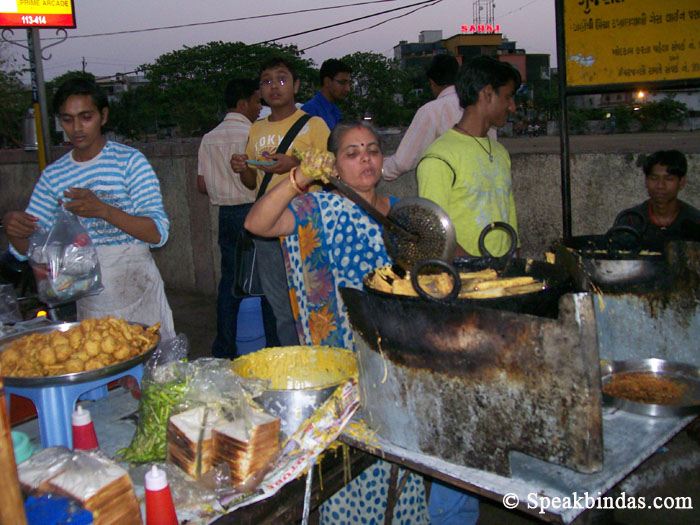 It sounds strange, but believe me this is the most favorite dish of youngsters in India. It is also called Indian burger, which is most hot favorite in people, no matter which religion they belong to, no matter which state they belong to, but everyone in India love to eat VADA PAV.
So, I went one day to one stall available at roadside in Adajan in my city Surat. I took permission to shoot a video. Owner's name was Mayank, he was with her mother Jayaben and two cousins. So, I shoot one video for this.
Now let me explain how this VADA PAV is made of. It is very simple to make it and very interesting also. VADA PAV is  having vada inside in bread, which is called pav in India.
To make vada – salt, black paper, chili, lemon, few Indian masalas are needed which makes it real spicy. Sometimes peanuts and beans are also added. All are mixed with potato crush, then it is dipped in besan and after that we can fry it.
So vada is prepared now. In bread, little butter is spread with tomato catch-up and chatni. Chatni is made of coriander, chili, ginger, salt, lemon, chili power, spices and all integrants are crushed in mixer jar, and now chatni is ready to use to make vada pav more special. Finally a vada is put in bread, now vada pav is ready to eat.
Many stalls serve it with tomato catch up and chatni. It depends on customer that what is his choice. Vada pav is available in only 5 to 6 Indian rupees. If you are going for shopping then you can see many such stalls available by roadside.
This is my personal favorite Indian dish, no matter how rich or poor you are, no matter how young or older you are, vada pav is choice for all. When I was in college many times  vada pav became my lunch or dinner.
In college where generally no one is working or you can say students are always seeking for cheap food which must be also good in taste. So, vada pav stood first always in every youngster's list.
Especially when few of my friends were reading for late night then at mid night they were feeling hungry, so, they went to railway station which was near to their hostel.
They went there and ate vada pav at 3 or 4 at night. They were making fun and enjoying their vada pav with friends. We generally arrange mini party which is called vada pav party.
No matter where you are in India, you will get vada pav stalls everywhere.