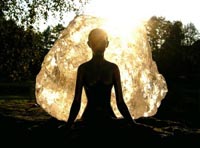 Right from my teenage days, I am very much attracted to spiritual books. The huge difference that exists between our so-called 'religions' and 'real spirituality' was clear to me in my formative days itself, and that's why I had the fortune of getting attracted to genuine spiritual books only. I loved to read Swami Vivekanand, and his books very really inspiring for me at that age. The phenomena called 'Vivekanand' had happened to India some 125 years back. But later as I grew up and became more aware about the current social realities, I was aghast to observe what is going around in the name of 'spirituality. I realized that there is nothing more bad in this world than the big bad world of 'spirituality'.
'It's all for the enlightenment, honey!!'
I came across this stupid word called enlightenment some 6 years ago. I came across a beautiful book called 'Power of Now'. In that book, the author had somehow very reluctantly used this word 'enlightenment' to describe phenomena which is very natural to us. I came to know that enlightenment is a state where we become free of our egoic illusions and realize the truth about ourself. The author had made it very clear that 'enlightenment' per se is not a super achievement. It is in fact our very natural state of existence, which we have forgotten because of our tendency to get lost in our 'I'. (I wonder why is 'super heavy' word is required to describe a phenomena which is so simple and natural to us and anybody can experience it ;);) ) I found this book very good and have deep regards for the author, as it makes clear that the 'peace' the world is chasing is very natural to us and can be accessed by living our life in the present moment.
However, I came to know from my subsequent explorations that there is a huge billion dollar business going around in this world under this idiotic word called 'enlightenment'. There were several 'gurus' and 'Sanyaasis' who were claiming to have become enlightened (as if it is a super achievement from their side!! ) and were mesmerizing people to follow them so that they can give 'enlightenment' to them! Their petty goals can be achieved.
Problems are an integral part of being a human. But sometimes, we human beings become bogged down by our problems so much, that we hardly are in a position to see things in a correct perspective. A desire arises in our mind to 'free' ourself from ALL our problems. Then, most of them come across this word called 'enlightenment', read all the non-sense stuff about it in some stupid book, and then crave for it, just the way they are now craving for money, sex, fame etc. And all the 'Guru' culture that we are seeing around today is merely the outcome of this human tendency to run outside to 'someone' who can remove them from their 'perceived' suffering.
My dear friends, I have met many people till now who claim to have become 'enlightened'. I am from Pune, which is somewhat a 'spiritual' hub of all the 'gurus' (there is not a single guru who doesn't have an 'ashram' over here…Just a matter of 'demand' and 'supply' ;)) . I know of Gurus who sell 'enlightenement' to you if are ready to shell our Rs. 20000/- regularly to see their faces. I know people from South India, from Delhi, from Bengal etc…all claiming to be either some 'avataars', that is reincarnation of some God or are claiming to have become 'liberated'. I also know of Gurus who are using the name of their 'Gurus' (who were truly good beings) to spread their own business. I have also met many people who claim that they are only interested in their own journey, and it doesn't matter whether the guru is genuine or fake!!
Then I also know of the followers who have 'surrendered' themselves to their Gurus. They claim they don't have any 'ego'. (I have to inflate my stomach to 'digest' that stuff, and my digestive system gets harmed sometimes;)) I know of a Girl from Delhi who is on the facebook. She claims to have experienced the 'bliss' from her 'master' after doing some structured 'course' at their ashram! (..another digestive problem for me 😉 ) She spends her whole day arguing on the face book forums how good her guru is, how good their organization is. She writes posts which are full of hatred towards those who oppose her. She often has a loose talk, not realizing what she is saying. And she claims to have experienced bliss!! And there are thousands of such followers who are intensely defending their 'gurus' on the public platforms! (I don't understand whether I should laugh or cry after reading their posts!!)
I have had them all! But dear readers let me tell you my observation. None of them is living an empowered life. They still hold the same 'childish' views as most of the 'non-enlightened' creatures like us (pun intended!) are holding. They fall prey to the same vices, the same temptations which we all are falling to. Their only power comes from the innocent people who trust them and run after them in hope. Their only power comes from their 'rhetorics', their story-telling capacity, their oratory, their capacity to judge the weaknesses of the masses. They have nothing, I repeat, nothing which you and I do not have. Don't forget ever, that their ONLY..yes..ONLY power is WE and our WEAKNESSES!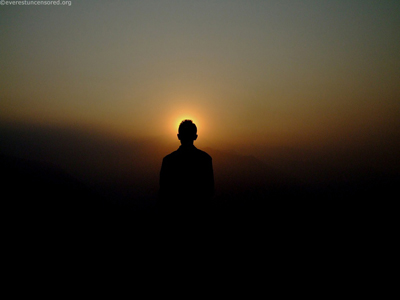 In the same breath, let me also clarify that I have also met some really genuine gurus and seekers. They generally do not speak much about their pursuits. They are not publicity mongers. They seek what they want to seek, with silence, poise and dignity. But let me also tell you that that is a rare breed, so rare that they are slowly getting extinct.
So dear friends! Be utterly careful in your life! You don't need a Guru! You yourself are your Guru. You only need someone who can help you realize this! Only that person deserves to be your Guru. And if you really need someone to show you the path, don't worry about it. The divine which prevails in all of us, will show it to you. You only need to trust it and listen to it.